Shure E5 Earphones In-Ear Monitor Rentals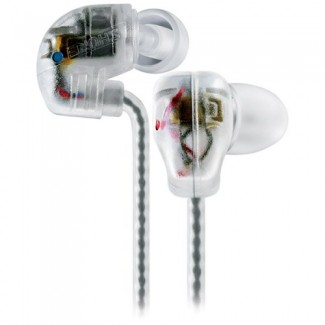 We offer Shure E5 Earphone rentals in Chicago, the Chicago suburbs, and nationwide.
If you have any questions about a Shure E5 Earphone rental in Chicago, suburban Chicago, or nationwide, or to reserve your rental, contact our Rental Team at 847.367.9588 or rentals@tcfurlong.com.
Shure E5 Earphones are one piece of several wireless in-ear monitor systems in our rental inventory.
The Shure E5 Sound Isolating Earphones are Shure's top-of-the-line model, offering the richest possible listening experience. Dual high-energy microspeakers capture the high and low frequencies, while an in-line electronic crossover separates these outputs. You can hear your music like never before. Subtle details are brought forward for a lush, complete listening experience.
In-ear design, using foam or flex sleeves, naturally blocks background noise. This allows lower listening volumes in loud environments. No batteries or extra equipment is needed for sound isolation.
Microspeakers are of Shure's highest-quality construction. Each earphone contains dual microspeakers, separating high- and low-frequency range; an in-line electronic crossover optimally separates these outputs, while a level attenuator allows comfortable listening levels for any high-output audio source.
Personal Fit Kit
Because every ear is different, the earphones come with a pair of disposable foam sleeves, a pair of triple-flange sleeves, 3 pairs (small, medium, large) of flex sleeves, and 3 pairs (small, medium, large) of ultrasoft flex sleeves to ensure a personalized fit.
Secure In-Ear Design
The soft, flexible sleeves in the Fit Kit gently contour the inside of the ear for a comfortable, secure fit.
Memory-Fit Earphone Cables
Once formed, the E5c's cables retain their shape around the ear, allowing for a more convenient, secure fit. The E5c's cables pass behind the ear — out of sight and out of the way — to provide a more comfortable, discreet fit.
Lightweight Construction
Weighing only 1.1 oz (31g), the E5c is lightweight and comfortable for any portable listening application.
Earphones Carrying Case
The E5c comes with a stylish, compact carrying case. The case allows for an easy, tangle-free way to store your earphones.
Sound isolating design
Dual high-energy microspeakers with extended frequency response, in-line crossover, and level attenuator for extraordinary studio-quality sound
Lightweight: weighs about one ounce
Fit kit for personalized, comfortable in-ear fit
Memory-fit cable
Carrying case
TC Furlong offers Shure E5 Earphones rentals alongside other wireless in-ear monitor rentals and an extensive rental inventory of professional audio equipment.
Contact the TC Furlong Rental Team today to rent Shure E5 Earphones wireless in-ear monitor systems in Chicago, Suburban Chicago, or nationwide, at 847.367.9588 or rentals@tcfurlong.com.