Meyer Sound 600-HP Subwoofer Rental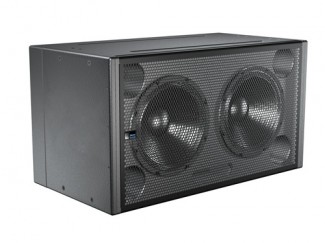 We offer Meyer Sound 600-HP rentals in Chicago, the Chicago suburbs, and nationwide.
If you have any questions about a Meyer Sound 600-HP subwoofer rental in Chicago, suburban Chicago, or nationwide, or to reserve your rental, contact our Rental Team at 847.367.9588 or rentals@tcfurlong.com.
The Meyer Sound 600-HP is just one of many loudspeakers in our rental inventory.
The 600-HP is a self-powered, high-output subwoofer that may be used in both flown and ground-stacked configurations. It is designed to rig directly with MICA compact, high-power curvilinear array loudspeakers when fitted with the optional QuickFly MRF-600 rigging frame. The versatility of the 600-HP also allows it to be used with a variety of other Meyer Sound self-powered loudspeakers — such as CQ-1, CQ-2, UPA-1P, UPA-2P and UPJ-1P — in fixed and touring applications.
The system features two specially designed high-power 15-inch cone drivers, engineered to provide optimal performance in subwoofer applications. The high-excursion, back-vented drivers have 4-inch voice coils, and each is rated to handle 1200 watts.
The two cone drivers are housed in a rectangular, optimally tuned and vented enclosure that is the same width as MICA, and a few inches higher and deeper. The enclosure geometry makes vertical ground-stacking easy and convenient. All versions include plastic skids on the bottom of the unit to prevent damage to the enclosure or the unit below; the skids align with slots on the cabinet's top to ensure secure stacking. Operating frequency range is from 36 Hz to 150 Hz, with a peak SPL at one meter of 138 dB.
Efficient, high-power and high-excursion cone drivers
Extremely low distortion for low-frequency clarity
Very high peak power yields excellent transient reproduction
Low-frequency complement to MICA and other Meyer Sound self-powered loudspeakers
TC Furlong offers Meyer Sound 600-HP subwoofer rentals alongside many other loudspeakers and an extensive rental inventory of professional audio equipment.
Contact the TC Furlong Rental Team today to rent the Meyer Sound 600-HP subwoofer in Chicago, Suburban Chicago, or nationwide, at 847.367.9588 or rentals@tcfurlong.com.
Meyer Sound 600-HP Rental Documentation: