Meyer Sound MSL-4 Loudspeaker Rental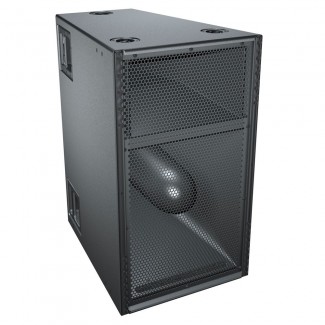 We offer Meyer Sound MSL-4 rentals in Chicago, the Chicago suburbs, and nationwide.
If you have any questions about a Meyer Sound MSL-4 loudspeaker rental in Chicago, suburban Chicago, or nationwide, or to reserve your rental, contact our Rental Team at 847.367.9588 or rentals@tcfurlong.com.
The Meyer Sound MSL-4 is just one of many loudspeakers in our rental inventory.
The Meyer Sound MSL-4 is a high-Q, arrayable loudspeaker designed for a wide variety of medium- to long-throw applications. The MSL-4's tightly defined coverage pattern allows seamless integration into array clusters, which may be tight-packed for long throw or splayed for broader coverage.
The MSL-4's built-in power amplifier and control electronics are contained in an easily accessible, field-replaceable module. The amplifier, a class AB/H design with complementary MOSFET output stages, produces peak output of 1240 watts (620 watts per channel). The integrated control electronics includes TruPower limiting for driver protection, as well as active phase correction circuits to maintain exceptionally coherent phase response. Superior common-mode rejection from laser-trimmed differential inputs allows very long signal runs. An Intelligent AC power supply affords automatic voltage selection, EMI filtering, soft current turn-on and surge suppression to ensure system stability and long-term reliability.
All components are housed in a rugged, multi-ply hardwood cabinet with a black textured finish. The MSL-4 comes standard with six aircraft pan fittings (ring and stud), with QuickFly rigging optional.
The MSL-4 is compatible with Meyer Sound's RMS remote monitoring system.
Output- 1240 W (620 W/channel)
Coverage pattern- 40 degrees horizontal, 35 degrees vertical
Tightly controlled coverage and horn loading for long throws
High-Q design minimizes reverberation
Excellent transient response for detailed, high-impact sound
Very high peak output for large-scale applications
TC Furlong offers Meyer Sound MSL-4 loudspeaker rentals alongside many other loudspeakers and an extensive rental inventory of professional audio equipment.
Contact the TC Furlong Rental Team today to rent the Meyer Sound MSL-4 loudspeaker in Chicago, Suburban Chicago, or nationwide.
Meyer Sound MSL-4 Rental Documentation:
Meyer Sound MSL-4 Rental Manual (PDF)