Meyer Sound UPJunior Loudspeaker Rental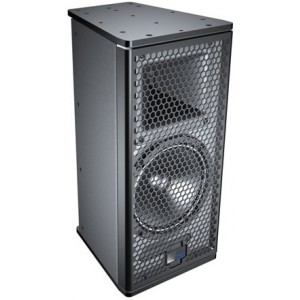 We offer Meyer Sound UPJunior rentals in Chicago, the Chicago suburbs, and nationwide.
If you have any questions about a Meyer Sound UPJunior loudspeaker rental in Chicago, suburban Chicago, or nationwide, or to reserve your rental, contact our Rental Team at 847.367.9588 or rentals@tcfurlong.com.
The Meyer Sound UPJunior is just one of many loudspeakers in our rental inventory.
Meyer Sound's UPJunior ultracompact VariO loudspeaker brings the sonic signature, versatile rigging, and extraordinary power-to-size ratio of the UPJ-1P to a smaller package. The UPJunior combines the advantages of a self-powered system with the placement and arraying flexibility afforded by a VariO rotatable horn.
Though remarkably compact and lightweight, the UPJunior delivers a robust peak power output of 126 dB SPL at 1 meter, making it suitable for use as either a single, primary loudspeaker or within multicabinet horizontal and vertical arrays. Applications include AV presentations; small- to medium-sized main sound reinforcement systems; fill, delay, and effects systems; under-balcony coverage; and distributed systems.
The UPJunior was bred for flexibility, whether oriented vertically or horizontally. The VariO horn allows quick rotation to provide an 80-degree by 50-degree coverage pattern in either the horizontal or vertical plane. In size, weight, and output, the UPJunior integrates seamlessly with the UltraSeries UPM and UPJ loudspeakers.
The UPJunior's low-mid frequency section employs an 8-inch neodymium magnet cone driver, while the high-frequency section utilizes an efficient 0.75-inch exit, 2-inch diaphragm compression driver. Both drivers are designed and manufactured by Meyer Sound in Berkeley, Calif. The cabinet incorporates aluminum end plates that provide unprecedented mounting, flying, and arraying flexibility. Strategically placed metric M8 threaded points allow simple mounting using either eyebolts or third-party pole assemblies.
The optional RMS module allows comprehensive monitoring of all key system parameters from a Windows-based computer. Other options include weather protection and custom color finishes for applications requiring specific cosmetics.
Output- 300 W
Coverage pattern- 80 degrees horizontal, 50 degrees vertical (rotateable)
Rotatable VariO horn provides versatile coverage options, whether loudspeakers are oriented horizontally or vertically
Exceptional fidelity and power-to-size ratio
Extraordinarily flat amplitude and phase response for tonal accuracy and precise imaging
Constant-Q horn affords uniform response throughout coverage area
Predictable and consistent performance ensures system design flexibility
TC Furlong offers Meyer Sound UPJunior loudspeaker rentals alongside many other loudspeakers and an extensive rental inventory of professional audio equipment.
Contact the TC Furlong Rental Team today to rent the Meyer Sound UPJunior loudspeaker in Chicago, Suburban Chicago, or nationwide.
If you have any questions about a Meyer Sound UPJunior loudspeaker rental—contact our Rental Team at 847.367.9588 or rentals@tcfurlong.com.
Meyer Sound UPJunior Rental Documentation:
Meyer Sound UPJunior Rental Manual (PDF)