Countryman B3 Lavalier Microphone Rental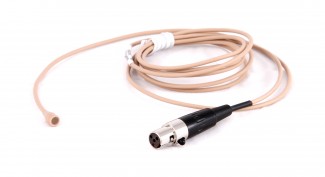 We offer Countryman B3 rentals in Chicago, the Chicago suburbs, and nationwide.
If you have any questions about a Countryman B3 rental in Chicago, suburban Chicago, or nationwide, or to reserve your rental, contact our Rental Team at 847.367.9588 or rentals@tcfurlong.com.
The Countryman B3 is just one of hundreds of microphones in our rental inventory.
Our Countryman B3 is essential to any well-stocked pro audio toolkit. For starters, the B3 captures the highest-quality audio available in a lavalier mic, with field-selectable HF response caps and extremely low handling noise.
Whether you need a tie-clip lav for an interview, a hair-hidden mic for drama, a water-resistant mic for water sports or hurricane reporting, or simply a small mic to hide in a prop flower vase, you'll never run out of applications for Countryman's B3 lavalier.
And that's exactly why we made the B3 so rugged. Kevlar protects its cable from excessive weight and stretching, and the mic's protective caps are extremely resistant to water, sweat, and makeup.
You'd never expect such a mic to be so affordable, making the B3 one of the highest-value audio investments in your kit!
Supplied with set of two tie clips (black and white), wind screen, three HF response control protective caps, and carrying case.
All-purpose, rugged, affordable lavalier that's easy to hide in clothing, hair or props
Ideal for theater, news anchors, interviews, lecturers, churches, schools, and general lavalier applications
Low distortion at SPL up to 150dB on 48V Phantom Power
Field-selectable HF response caps
Kevlar cable and ultra-thin diaphragm combine to set a new standard for low handling noise
Highest-quality audio available in a lavalier mic
Excellent rejection of surrounding noise
TC Furlong offers Countryman B3 rentals alongside hundreds of microphone rentals and an extensive rental inventory of professional audio equipment.
Contact the TC Furlong Rental Team today to rent the Countryman B3 in Chicago, Suburban Chicago, or nationwide, at 847.367.9588 or rentals@tcfurlong.com.
Countryman B3 Rental Documentation: