Countryman E6/E6i Earset Microphone Rental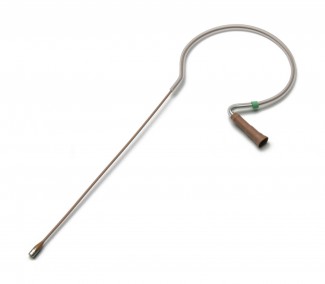 We offer Countryman E6/E6i rentals in Chicago, the Chicago suburbs, and nationwide.
If you have any questions about a Countryman E6/E6i rental in Chicago, suburban Chicago, or nationwide, or to reserve your rental, contact our Rental Team at 847.367.9588 or rentals@tcfurlong.com.
The Countryman E6/E6i is just one of hundreds of microphones in our rental inventory.  It is available in both hard-wired and wireless formats.  It is also available in omnidirectional and cardioid versions.
The Countryman E6 Earset is designed for more gain before feedback in noisy or loudspeaker-intensive spaces.
Our E6 Earset Mics are practically invisible to live or broadcast audiences. They're incredibly comfortable for the wearer. They capture sources clearly with excellent rejection of wind, ambient noise, and feedback. And their unique quick-swap cable extends the equipment life many times over. In addition, the quick-swap cable makes the same earset compatible with virtually any wireless mic system, simply by switching cables instead of buying an entirely new mic!
We've mounted our tiniest mic capsule on an even tinier boom that is rugged and incredibly lightweight. Silicon padding at the earpiece helps keep the boom comfortably in place, even with glasses or other head-worn accessories. We offer the widest range of boom and windscreen colors to match virtually any skin tone, and each mic can easily be custom-fitted to any wearer. Once adjusted to fit your head, the tough springy boom keeps its shape when stored.
What's more, the protective caps swap in seconds and allow you to select between cardioid and hypercardioid patterns for on-location fexibility.
It's no surprise that Countryman's E6 Directional Earset is a top choice for any spoken word application with excessive background noise or potential for feedback.
High quality voice pickup – more consistent than any lavalier
Excellent rejection of surrounding noise
Sounds like a world-class performance mic
Reduces feedback in meeting rooms or houses of worship an average of 12dB compared to an omni lavalier.
Smallest, lightest, most comfortable mic of its kind – only 1/10th ounce!
Almost invisible against any skin tone
Bendable boom custom fits every wearer
Hands-free, wireless-enabled mic allows total freedom of movement
Rugged and reliable – virtually unbreakable steel boom
Stiffer boom is easily adjusted yet holds its shape, making it perfect for single-wearer applications
Exclusive quick-swap cables for field replacement or compatibility with various wireless systems
Extremely resistant to sweat and water
TC Furlong offers Countryman E6/E6i rentals alongside hundreds of microphone rentals and an extensive rental inventory of professional audio equipment.
Contact the TC Furlong Rental Team today to rent the Countryman E6/E6i in Chicago, Suburban Chicago, or nationwide, at 847.367.9588 or rentals@tcfurlong.com.
Countryman E6/E6i Rental Documentation: