Countryman Isomax Headset Microphone Rental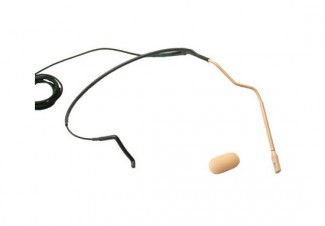 We offer Countryman Isomax Headset rentals in Chicago, the Chicago suburbs, and nationwide.
If you have any questions about a Countryman Isomax Headset rental in Chicago, suburban Chicago, or nationwide, or to reserve your rental, contact our Rental Team at 847.367.9588 or rentals@tcfurlong.com.
The Countryman Isomax Headset is just one of hundreds of microphones in our rental inventory.
One of the best-sounding headset mics of all time, the Countryman Isomax Headset Mic remains the favorite of countless high-profile performing artists.
It's sleek, comfortable and stays snugly in place, even during dance-oriented performances. It zeroes in on its source, capturing warmth in a wide frequency range. It rejects unwanted sounds and monitor feedback even better than most handhelds. And it tolerates sweat, weather, and makeup better than any other headset.
Best of all, it's affordable and durable, providing a long life of excellent sound.
Extremely popular among high-profile rock performers onstage and in the studio
Excellent choice for trade show presenters, auctioneers, lecturers, clergy, etc.
Very high-quality audio
High rejection of feedback and unwanted sounds
Wide 20Hz to 20kHz frequency response shaped like the world's most popular vocal microphone.
Truly dynamic warmth with condenser clarity.
Reduces feedback – nearly perfect cardioid and hypercardioid patterns handle hot monitors better than most handhelds.
Flexible, telescoping band fits snugly and comfortably around the back of the head
Easily concealed under the hair
Telescoping boom can be bent to provide a custom fit.
TC Furlong offers Countryman Isomax Headset rentals alongside hundreds of microphone rentals and an extensive rental inventory of professional audio equipment.
Contact the TC Furlong Rental Team today to rent the Countryman Isomax Headset in Chicago, Suburban Chicago, or nationwide, at 847.367.9588 or rentals@tcfurlong.com.
Countryman Isomax Headset Rental Documentation: