Crown CM-311A Headset Microphone Rental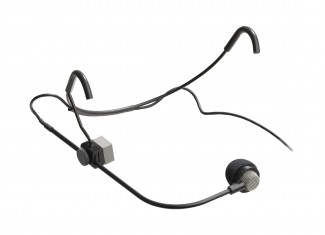 We offer Crown CM-311A Headset rentals in Chicago, the Chicago suburbs, and nationwide.
If you have any questions about a Crown CM-311A Headset rental in Chicago, suburban Chicago, or nationwide, or to reserve your rental, contact our Rental Team at 847.367.9588 or rentals@tcfurlong.com.
The Crown CM-311A Headset is just one of hundreds of microphones in our rental inventory.
Designed for touring and live-sound applications, the Crown CM-311A is a rugged head-worn microphone with unequaled performance. It sounds like the best handheld microphones—full, clear, and distortion-free, even with the loudest singers.
The CM-311A is the latest version of the Crown's proprietary Differoid technology. Its cardioid pickup pattern rejects sounds from the rear, such as floor monitors. Its noise-canceling ability rejects sounds at a distance, such as instruments on stage and crowd noise. This results in the CM-311A having outstanding gain-before-feedback and isolation. Lightweight and comfortable, the mic's headband and boom adjust to fit any singer. An included pop filter greatly reduces breath noise and pops. Because of the boom's unique behind-the-ear design, it does not cover up the singer's face.
Transducer type: Electret condenser.
Frequency response (typical): 50 Hz to 17,000 Hz
Polar pattern: Cardioid
Impedance: CM-311A, 75 ohms balanced. CM-311AE, 6 kilohms unbalanced.
Recommended load impedance: 1000 ohms or greater.
Open-circuit sensitivity, typical, close-talking: 4 mV/Pa (–48 dB re 1V/Pa)
Power sensitivity, typical, close-talking: –42.5 dB re 1 mW/Pa
Equivalent noise level (self noise): 26 dB SPL typical (0 dB = 0.0002 dyne/cm2), A-weighted.
S/N ratio: 68 dB at 94 dB SPL.
Maximum SPL: 148 dB SPL produces 3%  THD.
TC Furlong offers Crown CM-311A Headset rentals alongside hundreds of microphone rentals and an extensive rental inventory of professional audio equipment.
Contact the TC Furlong Rental Team today to rent the Crown CM-311A Headset in Chicago, Suburban Chicago, or nationwide, at 847.367.9588 or rentals@tcfurlong.com.
Crown CM-311A Headset Rental Documentation: