Sennheiser e614 Condenser Microphone Rental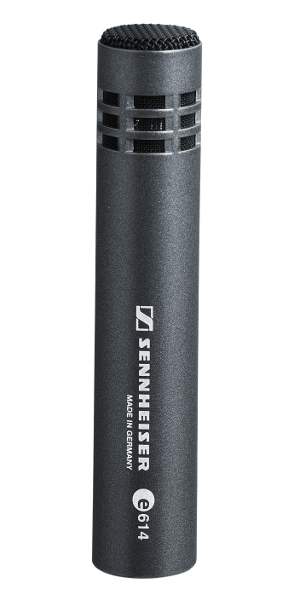 We offer Sennheiser e614 rentals in Chicago, the Chicago suburbs, and nationwide.
If you have any questions about a Sennheiser e614 rental in Chicago, suburban Chicago, or nationwide, or to reserve your rental, contact our Rental Team at 847.367.9588 or rentals@tcfurlong.com.
The Sennheiser e614 is just one of hundreds of wired microphones in our rental inventory.
All e614 rentals include stands, mic clips, and cables.
The super-cardioid Sennheiser e614 is a pre-polarised condenser microphone designed for demanding applications which require a wide frequency response, high sound pressure level, fast transient response and a compact design. With its frequency response of 40 Hz to 20 kHz, the e614 is able to capture the full sound of the instrument, while its super-cardioid pick-up pattern isolates the microphone from other on-stage signals.
An excellent microphone for overheads, hi-hat and percussions, the e614 is also an ideal choice for woodwind and string instruments. Its excellent acoustic properties also make it a valuable tool for home recording, the project studio and live stereo pair recording.
Frequency response- 40-20,000 Hz
Designed for demanding applications where extended frequency range, high SPL handling, fast transient response and small size are required
Captures the shimmer and the contact of sticks, mallets and hands
Nearly flat response from 40 Hz to 20 kHz and a supercardioid pattern
TC Furlong offers Sennheiser e614 rentals alongside hundreds of wired microphone rentals and an extensive rental inventory of professional audio equipment.
Contact the TC Furlong Rental Team today to rent the Sennheiser e614 in Chicago, Suburban Chicago, or nationwide.
Sennheiser e614 Rental Documentation:
Sennheiser e614 Rental Manual (PDF)