Sennheiser MD431 Dynamic Microphone Rental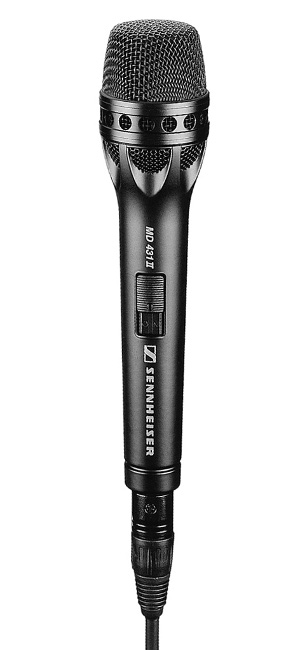 We offer Sennheiser MD431 rentals in Chicago, the Chicago suburbs, and nationwide.
If you have any questions about a Sennheiser MD431 rental in Chicago, suburban Chicago, or nationwide, or to reserve your rental, contact our Rental Team at 847.367.9588 or rentals@tcfurlong.com.
The Sennheiser MD431 is just one of hundreds of wired microphones in our rental inventory.
All MD431 rentals include stands, mic clips, and cables.
Sennheiser's best dynamic mic for live vocals just got better. The super-cardioid MD 431 II has a custom-tailored frequency response to achieve added transparency. A nearly frequency-independent polar pattern offers incredibly high gain before feedback and provides uncolored off-axis response. Its new rugged housing has a steel-mesh grille, a shock-suspended capsule, and a hum-bucking coil. It features a noiseless, magnetic reed on/off switch which is recessed in its handle, and internal electronics for refining proximity effect.
Exceptionally good feedback rejection
Shock mounted capsule provides very good rejection of handling noise
Hum compensating coil
Integral pop filter
On/off switch (reed switch) can be locked in the 'ON' position if required
TC Furlong offers Sennheiser MD431 rentals alongside hundreds of wired microphone rentals and an extensive rental inventory of professional audio equipment.
Contact the TC Furlong Rental Team today to rent the Sennheiser MD431 in Chicago, Suburban Chicago, or nationwide.
Sennheiser MD431 Rental Documentation:
Sennheiser MD431 Rental Manual (PDF)