Sennheiser MD441 Dynamic Microphone Rental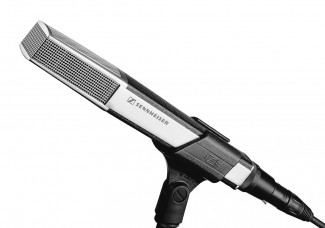 We offer Sennheiser MD441 rentals in Chicago, the Chicago suburbs, and nationwide.
If you have any questions about a Sennheiser MD441 rental in Chicago, suburban Chicago, or nationwide, or to reserve your rental, contact our Rental Team at 847.367.9588 or rentals@tcfurlong.com.
The Sennheiser MD441 is just one of hundreds of wired microphones in our rental inventory.
All MD441 rentals include stands, mic clips, and cables.
The Sennheiser MD 441 is acknowledged as the most accurate and versatile dynamic mic available. It has a nearly textbook perfect super-cardioid pattern, a five-position low frequency contour switch, a two-position high frequency switch, a critically damped internal shock suspension, and a hum bucking coil. Perfect for vocals and virtually every instrument.
Excellent feedback rejection
Excellent sound quality
Spring capsule mounting provides low sensitivity to handling noise
Hum compensating coil
Five position bass roll-off switch
Brilliance (treble boost) switch
Integral pop filter
TC Furlong offers Sennheiser MD441 rentals alongside hundreds of wired microphone rentals and an extensive rental inventory of professional audio equipment.
Contact the TC Furlong Rental Team today to rent the Sennheiser MD441 in Chicago, Suburban Chicago, or nationwide.
Sennheiser MD441 Rental Documentation:
Sennheiser MD441 Rental Manual (PDF)