Shure Beta 87 Condenser Microphone Rental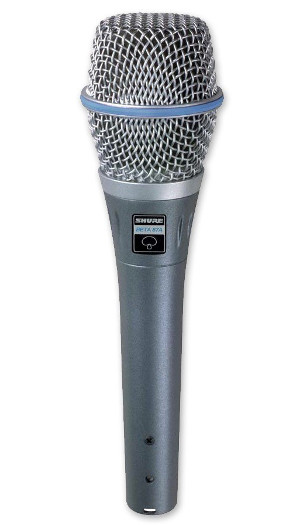 We offer Shure Beta 87 rentals in Chicago, the Chicago suburbs, and nationwide.
If you have any questions about a Shure Beta 87 rental in Chicago, suburban Chicago, or nationwide, or to reserve your rental, contact our Rental Team at 847.367.9588 or rentals@tcfurlong.com.
The Shure Beta 87 is just one of hundreds of wired microphones in our rental inventory.
All Beta 87 rentals include stands, mic clips, and cables.
The Shure Beta 87 is a premium quality supercardioid hand-held electret condenser vocal microphone with exceptionally smooth frequency response and high sound pressure level capability. Used for professional sound reinforcement, broadcasting, and studio recording applications, the Beta 87 combines superb performance with the ruggedness needed for touring and field production.
The Beta 87 features a controlled low-frequency roll-off that compensates for proximity effect and prevents the "boomy" sound often associated with close pick-up. The characteristic Shure presence rise brightens the upper midrange. The tight supercardioid pattern, with null points at approximately 125 degrees, provides maximum isolation from other vocalists or instruments while offering minimal off-axis coloration. The Beta 87 operates on phantom power.
Smooth frequency response with gradual presence rise
Highly consistent supercardioid polar pattern provides superior gain-before-feedback
Electronic low-frequency roll-off compensates for proximity effect
Wide dynamic range (117 dB) and low distortion characteristics
Very low susceptibility to RFI and electromagnetic hum
Advanced cartridge shock-mount system absorbs mechanical shocks and reduces handling noise
Built-in pop filter reduces undesirable wind and breath sounds

Legendary Shure quality and reliability
TC Furlong offers Shure Beta 87 rentals alongside hundreds of wired microphone rentals and an extensive rental inventory of professional audio equipment.
Contact the TC Furlong Rental Team today to rent the Shure Beta 87 in Chicago, Suburban Chicago, or nationwide.
Shure Beta 87 Rental Documentation: