Shure Beta 91A Condenser Microphone Rental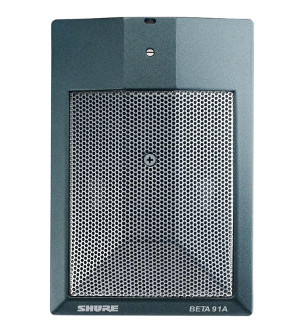 We offer Shure Beta 91A rentals in Chicago, the Chicago suburbs, and nationwide.
If you have any questions about a Shure Beta 91A rental in Chicago, suburban Chicago, or nationwide, or to reserve your rental, contact our Rental Team at 847.367.9588 or rentals@tcfurlong.com.
The Shure Beta 91A is just one of hundreds of wired microphones in our rental inventory.
All Beta 91A rentals include stands, mic clips, and cables.
The Shure Beta 91A is designed for use with kick drums, as well as other traditional low-frequency applications, including piano.  Featuring an updated microphone capsule, integrated preamplifier, and XLR connection, the Beta 91A offers strong low-frequency response and is specifically tailored for bass frequency applications.  The Beta 91A combines superior attack and punch for studio-quality sound, even at extremely high sound pressure levels (SPL).
Uniform half-cardioid polar pattern for maximum gain-before-feedback and rejection of off-axis sound
Precision-engineered low-profile design features integrated preamplifier and XLR connector to maximize setup efficiency while minimizing stage clutter
Frequency response tailored for kick drum/low frequency applications with a wide dynamic range for use in high SPL environments
Two-position contour switch to maximize attack and clarity depending on application: select the flat response setting for natural sound in most applications or the "low-mid scoop" setting for a strong low frequency "punch" with plenty of higher frequency attack
Requires no external mounting or accessories for ease of use and storage
Furnished with zipper pouch
TC Furlong offers Shure Beta 91A rentals alongside hundreds of wired microphone rentals and an extensive rental inventory of professional audio equipment.
Contact the TC Furlong Rental Team today to rent the Shure Beta 91A in Chicago, Suburban Chicago, or nationwide.
Shure Beta 91A Rental Documentation: