Shure Beta 27 Condenser Microphone Rental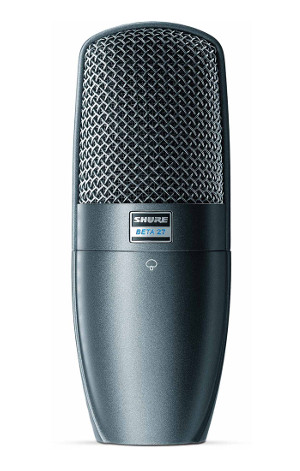 We offer Shure Beta 27 rentals in Chicago, the Chicago suburbs, and nationwide.
If you have any questions about a Shure Beta 27 rental in Chicago, suburban Chicago, or nationwide, or to reserve your rental, contact our Rental Team at 847.367.9588 or rentals@tcfurlong.com.
The Shure Beta 27 is just one of hundreds of wired microphones in our rental inventory.
All Beta 27 rentals include stands, mic clips, and cables.
The Shure Beta 27 side-address condenser microphone is precision engineered for professional sound reinforcement and project studio recording applications. Its flat frequency response and low self-noise provide unerring performance in demanding environments. A tight supercardioid pattern ensures high gain-before-feedback and maximum isolation from other sound sources.
Supercardioid polar pattern specifically targets the sound source consistently with greatly minimized bleed from off-axis sound sources
Tailored for superior transient response from a low-mass, 1" externally-biased, ultra-thin 24 Karat gold-layered Mylar® diaphragm
Flat, neutral frequency response for natural reproduction on stage or in the studio
3-position switchable low-frequency filter helps reduce unwanted background noise or counteract proximity effect for consistent, extended lowend
-15 dB switchable attenuator handles extremely high SPLs with ease
Premium electronic components and gold-plated internal and external connectors
Internal pop filter with three separate mesh layers reduces wind and breath noise.
TC Furlong offers Shure Beta 27 rentals alongside hundreds of wired microphone rentals and an extensive rental inventory of professional audio equipment.
Contact the TC Furlong Rental Team today to rent the Shure Beta 27 in Chicago, Suburban Chicago, or nationwide.
Shure Beta 27 Rental Documentation:
Shure Beta 27 Rental Manual (PDF)