Aviom A-16II Personal Monitor Mixer Rental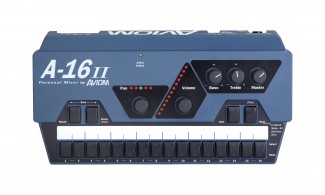 We offer Aviom A-16II rentals in Chicago, the Chicago suburbs, and nationwide.
If you have any questions about a Aviom A-16II personal monitor mixer rental in Chicago, suburban Chicago, or nationwide, or to reserve your rental, contact our Rental Team at 847.367.9588 or rentals@tcfurlong.com.
The Aviom A-16II is just one of many personal monitor mixers in our rental inventory.
Designed for use in live performance or in the studio, the Aviom A-16II Personal Mixer gives each performer control over channel volume, grouping, pan, stereo spread, as well as master volume and tone. Every Personal Mixer in a system can create a unique monitor mix for a performer. Users can save and recall up to sixteen custom mixes as presets in their Personal Mixer.
Stereo Output for Wired or Wireless IEMs
The TRS stereo output from the A-16II can be used to drive wired or wireless in-ear monitors (IEMs), headphones, powered floor wedges, an amplifier, or spot monitors.
The A-16II Personal Mixer is fully compatible with all Pro16 Series products, including Aviom's Y1 A-Net card for Yamaha digital mixing consoles. Support for the industry standard Aviom monitor mixing is available in the form of console interface cards from an ever- increasing list of digital console manufacturers (including Avid(Digidesign), DiGiCo, Soundcraft, Innovason, Tascam). Many other digital console manufacturers offer a Pro16 A-Net output option.
Power Over Cat-5
Personal Mixers can be daisy chained or connected in parallel using an A-Net Distributor. Parallel connections also allow DC power to be supplied to the mixers over the Cat-5e cable. The A-16II supports Cat-5e cable runs of up to 500 feet (150 meters) between devices, and there is no practiacal limit to the number of personal mixers in a system.
Compatibility
All Pro16 Personal Mixers, including the A-16II, A-16R, and A360, can be used in any combination when creating a personal mixing system.
Adding an ASI A-Net Systems Interface to a Pro64 network allows a Personal Mixer to output any 16 channels from a Pro64 digital snake or audio network.
Audio Output- 1/4-inch TRS stereo, headphone or line level
Line/Headphone TRS Output- Tip: Audio Left; Ring: Audio Right; Sleeve: Ground
Auto-detects mono plugs
A-Net Input/Output- 1 A-Net input, 1 A-Net output; Category 5 (RJ45 connector)
Digital to Analog Conversion Bit Depth- 24 bit
Signal to Noise Ratio- (Referenced to 0dB) -103dB
Latency- <0.880 msec (measured from analog input to analog output)
Pro16 A-Net- Uses unshielded Cat-5e UTP (or better) cable; maximum 500ft (150m) between devices
Treble +/-12dB at 9kHz shelving
Bass- +/-12dB at 160Hz shelving
Maximum Levels (RMS)- Line/Headphone outs: 1.0 watt at 100 ohms
Impedance- Line/Headphone outs: 32 ohms
Dimensions- 10.75″ (273 mm) wide x 5.6″ (142.2 mm) deep; 2.25″ (57.5 mm) high
Weight- 3.4 lb (1.54 kg)
TC Furlong offers Aviom A-16II personal monitor mixer rentals alongside many other personal monitor mixers and an extensive rental inventory of professional audio equipment.
Contact the TC Furlong Rental Team today to rent the Aviom A-16II personal monitor mixer in Chicago, Suburban Chicago, or nationwide.
If you have any questions about an Aviom A-16II personal monitor mixer rental, contact our Rental Team at 847.367.9588 or rentals@tcfurlong.com.
Aviom A-16II Rental Documentation:
Aviom A-16II Rental Manual (PDF)