Crown MA-24×6 Power Amplifier Rental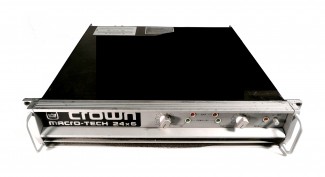 We offer Crown MA-24×6 Power Amplifier rentals in Chicago, the Chicago suburbs, and nationwide.
If you have any questions about a Crown MA-24×6 Power Amplifier rental in Chicago, suburban Chicago, or nationwide, or to reserve your rental, contact our Rental Team at 847.367.9588 or rentals@tcfurlong.com.
The Crown MA-24×6 Power Amplifier is just one of many power amplifiers in our rental inventory.
The Crown Macro-Tech Series is the defining standard for amplifier design today. No compromises, no gimmicks. Just brilliant engineering backed by superior manufacturing, support and an unsurpassed commitment to quality. Like all Crown amps, the defining characteristic of the Macro-Tech Series is sonic accuracy. A tight, rock-solid low end, with smooth, detailed highs and a well-defined midrange. In short, the most accurate reproduction of an audio signal you've ever heard. And because we put the quality of sound above all else, a Crown is the most coveted amplifier in the business.
When it comes to manufacturing amps, our work is based on one simple fact: there are no shortcuts to quality. And our Macro-Techs have proven it time and time again in some of the most demanding applications in the world.
Developing innovative products that meet your specific needs is what we're about. Our Macro-Tech 24×6 and 36×12 provide a practical solution to biamplified system applications such as stage monitors. Each amp combines a high and medium-power module in a single, low profile unit.
The MA-24×6 has 2 channels:
Channel 1: 800W @ 4ohm, 520W @ 8ohm
Channel 2: 325W @ 4ohm, 220W @ 8ohm
Crown's Grounded Bridge design delivers large voltage swings without using easily stressed output-transistor configurations like conventional amplifiers. The results are lower distortion and superior reliability.
Patented ODEP (Output Device Emulation Protection) circuitry compensates for overheating and overload to keep the amplifier working when others would fail.
IOC (Input/Output Comparator) circuitry immediately alerts of any distortion exceeding 0.05%, providing dynamic proof of distortion-free performance.
PIP (Programmable Input Processor) connector accepts accessory modules that tailor the amplifier to suit specific applications.
Convenient high- and medium-power channel design for biamplified systems such as stage monitors.
Very low harmonic and intermodulation distortion results in the best dynamic transfer function in the industry.
Balanced 1/4-inch(6.35-mm) phone jack inputs for each channel, with balanced XLR connectors on the standard PIP-FX module.
Full protection from shorted, open and mismatched loads; general overheating; DC; high-frequency overloads; and internal fault conditions.
TC Furlong offers Crown MA-24×6 Power Amplifier rentals alongside many other power amplifiers and an extensive rental inventory of professional audio equipment.
Contact the TC Furlong Rental Team today to rent the Crown MA-24×6 Power Amplifier in Chicago, Suburban Chicago, or nationwide, at 847.367.9588 or rentals@tcfurlong.com.
Crown MA-24×6 Power Amplifier Rental Documentation: