Crown MA-3600VZ Power Amplifier Rental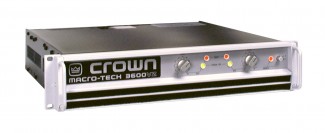 We offer Crown MA-3600VZ Power Amplifier rentals in Chicago, the Chicago suburbs, and nationwide.
If you have any questions about a Crown MA-3600VZ Power Amplifier rental in Chicago, suburban Chicago, or nationwide, or to reserve your rental, contact our Rental Team at 847.367.9588 or rentals@tcfurlong.com.
The Crown MA-3600VZ Power Amplifier is just one of many power amplifiers in our rental inventory.
The Crown Macro-Tech 3600VZ professional power amplifier features Crown's patented Variable Impedance (VZ ) power supply. This power supply, along with advanced semiconductor technology, enables the Macro-Tech 3600VZ to pack more power into a mere 3½ inches of vertical rack space than ever before. Because it's a Macro-Tech, you have the added benefit of PIP compatibility for access to custom input modules and ODEP protection to keep the show going long after other amplifiers would fail.
Modern power amplifiers are sophisticated pieces of engineering capable of producing extremely high power levels. They must be treated with respect and correctly installed if they are to provide the many years of reliable service for which they were designed.
In addition, the MA-3600VZ amplifier includes a number of features which require some explanation before they can be used to their maximum advantage.
The MA-3600VZ has 2 channels each with 1565W (@ 4 ohms) or 1120 W (@ 8 ohms)
Grounded Bridge design delivers large voltage swings without stressing output transistors, resulting in lower distortion and superior reliability.
Patented ODEP (Output Device Emulation Protection) circuitry compensates for overheating and overload to keep the amplifier working when others would fail.
IOC (Input/Output Comparator) circuitry immediately alerts of any distortion exceeding 0.05%, providing dynamic proof of distortion-free performance.
Articulated VZ power supplies for each channel provide excellent crosstalk characteristics and the best power matching to your load.
TC Furlong offers Crown MA-3600VZ Power Amplifier rentals alongside many other power amplifiers and an extensive rental inventory of professional audio equipment.
Contact the TC Furlong Rental Team today to rent the Crown MA-3600VZ Power Amplifier in Chicago, Suburban Chicago, or nationwide, at 847.367.9588 or rentals@tcfurlong.com.
Crown MA-3600VZ Power Amplifier Rental Documentation: