Shure UHF Wireless Microphone Rentals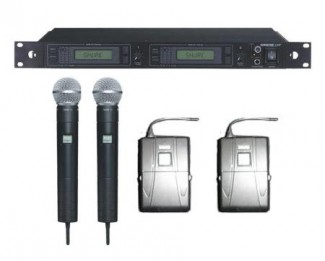 We offer Shure UHF rentals in Chicago, the Chicago suburbs, and nationwide.
If you have any questions about a Shure UHF rental in Chicago, suburban Chicago, or nationwide, or to reserve your rental, contact our Rental Team at 847.367.9588 or rentals@tcfurlong.com.
Shure UHF is one of several wireless microphone systems in our rental inventory including the Shure UHF-R wireless microphone system.
Shure UHF rentals are available bodypack configurations, and come with the TC Furlong Wireless Advantage.
All Shure UHF rentals include transmitters, receivers, stands, mic clips, and cables.
We offer Shure UHF rentals in most U.S. frequency blocks. Call us at 847-367-9588 to check availability.
The Shure UHF Wireless microphone system is a frequency-agile diversity system operating in the UHF band. Both the receiver and the transmitter are synthesizer controlled via Phase Locked Loop (PLL) circuitry for clear, steady radio frequency (RF) signal. The receiver is available in either dual or single models that fit into a standard 19 inch (482 mm) equipment rack. An auxiliary unswitched AC output jack allows multiple receivers to be linked "daisy chain" style. The optional UA830 Remote Antenna Kits can be powered by 12 Vdc, 500 mA output provided through the antenna connectors. The optional UA845 Antenna Distribution Amplifier Kits allows connection of multiple receivers using only two antennas.
Menu Driven Display. User–programmable receiver display shows Group, Channel, Frequency, Name, Squelch level, and Locked/Unlocked status.
Exclusive Shure MARCAD Circuitry. MARCAD (Maximum Ratio Combining Audio Diversity) circuitry constantly monitors signals from both receiver sections and combines them in a single output signal. MARCAD provides superior reception and exceptional freedom from dropouts.
Noise Squelch Circuitry. Analyzes signal quality instead of signal strength. This virtually eliminates the possibility of annoying noise bursts coming through your receiver.
Dual RF Level Meters. The U4S and U4D receivers have two RF meters, one for each antenna. The dual meters indicate received signal strength at each antenna, and make it easier to identify and troubleshoot "dead spots".
Audio Metering. Each receiver includes a seven–segment audio meter that lets you monitor audio level and helps optimize transmitter gain setting.
Transmitter Display. Shows Group, Channel, Battery Power Level, and POWER LOCK ON/OFF* condition. Both displays are user programmable.
Tone Key Squelch: Eliminates unwanted noise from entering system; eliminates popping noises when turning the transmitter on or off.
Dual Receiver Option: Provides greater flexibility while conserving rack space.
Preconfigured Group/Channel: Ensures frequency compatibility and simplifies system installation.
Network Expansion Capability. U4S and U4D receivers have a 25–pin serial connector for future computer control and monitoring via an accessory interface box.
DC/DC Converter: Ensures consistent audio and RF performance, even if battery voltages change.
Why rent Shure UHF wireless microphone systems from TC Furlong Inc.?
The TC Furlong Wireless Advantage.
When renting a Shure UHF wireless microphone system, we provide more than just transmitters and receivers.  Each system is designed specifically for your rental, and benefits from our decades of expertise in wireless design and operation.
Frequency coordination for your performance location for all Shure UHF rentals.  We have the knowledge and specialized tools to accurately coordinate your wireless microphone rental with other wireless and avoid local broadcasters.
Custom configurations.  Every Shure UHF rental we send out is designed specifically for that job.  We don't pre-configure any wireless before we know exactly what you need.
Every Shure UHF rental is loaded with fresh batteries, then tested as a system before it leaves our shop to guarantee performance at your show site.
The correct antenna for the job.  We deploy a wide range of antennas for many different applications.  From log-periodic and omni antennas to helically- and circularly-polarized antennas, we have the correct antenna for your job.
Extras including RF scanners, antenna distribution, high- and low-pass filters, and low-loss cable to help improve signal strength.
Auxiliary gear to interface our wireless with your system.
TC Furlong offers Shure UHF rentals alongside hundreds of other wireless microphone rentals and an extensive rental inventory of professional audio equipment.
Contact the TC Furlong Rental Team today to rent Shure UHF wireless microphones in Chicago, Suburban Chicago, or nationwide.
Shure UHF Rental Documentation: