By Oz, Sales & Marketing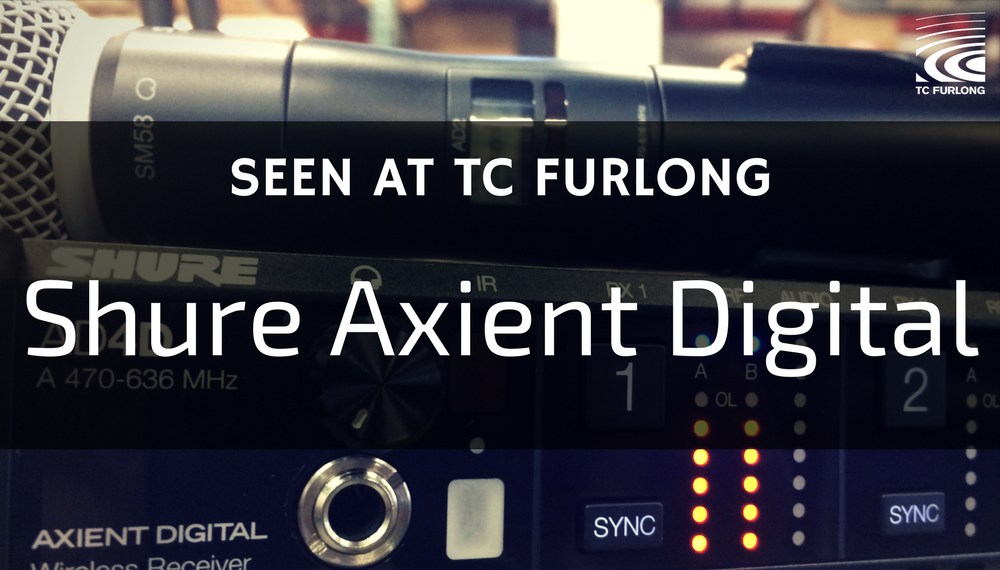 Update: Since the posting of this article, TC Furlong Inc. has made a significant investment into Shure's Axient Digital wireless systems. For more information, contact our rental team at 847-367-9588 or rentals@tcfurlong.com
TC Furlong Inc. recently had the new Axient Digital system in house for a demo presentation. We were very impressed with the system and have already begun adding these systems to our rental inventory.
Here are some of the major points about Axient Digital that makes us excited to have the systems:
The Axient Digital transmitters come in two distinct configurations. The receivers are universal to both transmitter types.
AD Transmitters

Units are shipping soon and have a similar functionality to Shure UHF-R or other high-quality wireless systems.

ADX Transmitters

Along with additional equipment such as the AXT600 spectrum manager and the new AD610 ShowLink which enables remote transmitter control and automatic interference avoidance.
Due to be released in the first quarter of 2018.
The AD4D (dual) and AD4Q (quad) receivers come with a range of features. The design of the systems allow for easier use and simpler workflow. Each channel on the receiver has its own meter for each antenna input and audio level. The receivers have true diversity, switching between and utilizing both antennas for the best signal strength. The AD4Q quad receiver has the added ability of converting to a two-channel receiver using four antennas instead of two for "Quadversity," allowing for a stronger or more flexible antenna setup.
The AD transmitters can operate in both a standard or high-density mode, which allows them to maximize system channel count. The Digital transmission is fully encryption-enabled for secure transmission. The transmitters can use either AA or SB900A rechargeable batteries and have external contacts for docked recharging. The AD1 bodypack transmitters come equipped with either TA4F or LEMO3 connectors. The AD2 hand-held transmitters have many of the same features, and also come in black or nickel finish. Both the Axient Digital AD and ADX transmitters are fully wideband and capable of operating in the 470-616 MHz range.
While we are still waiting for the release of the ADX transmitters, we have already begun investing in the new Axient Digital receivers and AD transmitters for our rental inventory. If you are interested in adding Axient Digital to your next rental or show, contact our rental team at 847-367-9588 or at rentals@tcfurlong.com.
TC Furlong also sells Shure products, along with other major audio brands. For questions about purchasing Shure Axient Digital wireless or anything else from our list of over 100 professional audio manufacturers, contact our sales team at 847-367-9588 or at sales@tcfurlong.com.