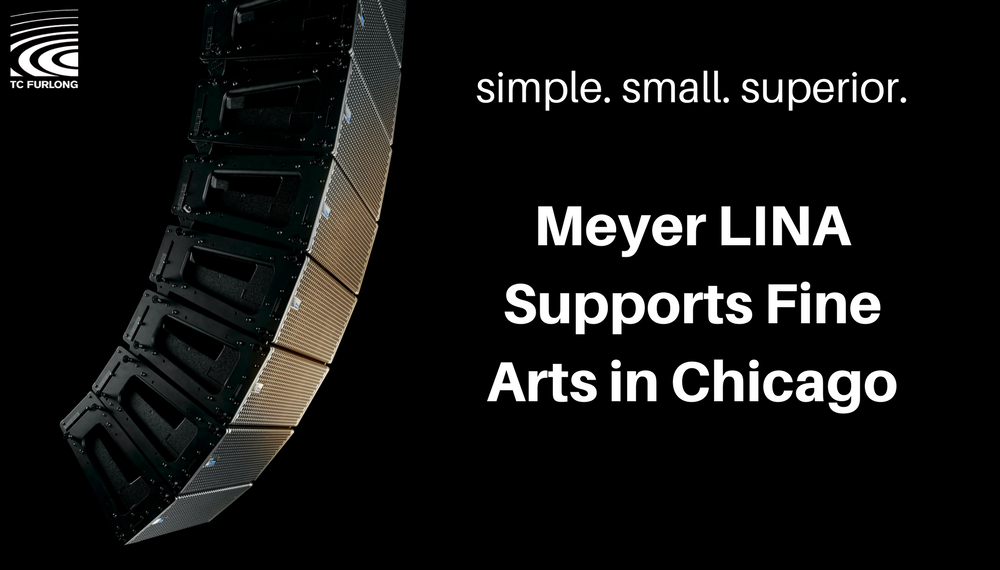 By Oz, Sales & Marketing
The LINA loudspeaker is the newest addition to the LEO family of loudspeakers from Meyer Sound. It is the smallest and lightest of the series. With its companion control element 750-LFC, it brings the inherent linearity, low distortion, and exceptional power-to-size ration of LEO family technology to a wider range of applications and venues.
TC Furlong Inc. recently designed and integrated a LINA loudspeaker system into a leading cultural icon in Chicago. We integrated the LINA system into a theatre that features a dynamic range of performance types, and the adaptability of the LINA system made it a perfect fit.
The LINA loudspeaker takes advantage of the existing MINA footprint, but has new drivers, an updated amplifier, and a signal processing package that, along with improved power supply, enables higher peak output. The improvements also add high-frequency headroom and lower distortion, which allows the LINA to faithfully reproduce audio with tremendous power, superior intelligibility, and extremely low distortion.
Along with the LINA, the 750-LFC low-frequency control element was part of the design of the installed system. The combination of these two loudspeakers helps to extend deep bass in the system, performing down to 36 Hz. The LINA and 750-LFC are driven by the Galileo GALAXY loudspeaker management system.
The recent fine arts integration included twenty-six LINA linear line array loudspeakers, four 750-LFC low-frequency control elements, as well as an array of additional Meyer loudspeakers such as UP-4XPs, UPA-1Ps, UPM-1XPs, and custom rigging structures.
TC Furlong Inc. is a long-time Meyer Sound dealer in the Chicago area, and we have a large inventory of Meyer Sound loudspeakers in our rental inventory. For more information on adding a Meyer Sound to your next rental or show, contact our Rental Team at 847.367.9588 or rentals@tcfurlong.com.
If you have any questions about purchasing a LINA system, or anything from our list of over 100 professional audio manufacturers, contact our Sales Team at 847.367.9588 or sales@tcfurlong.com.
---
Join us next week at the Copernicus on Tuesday, November 14 to hear a live demonstration of the LINA and 750-LFC loudspeakers! Doors open at 10:00 am with the first demonstration at 11:00 am. Lunch will be served at 12:30 with a second demo at 3:00 pm and ending at 4:30 pm.
There is still time to register to join us for this demo! You can register below!