by Brian Grahn, Sales/Marketing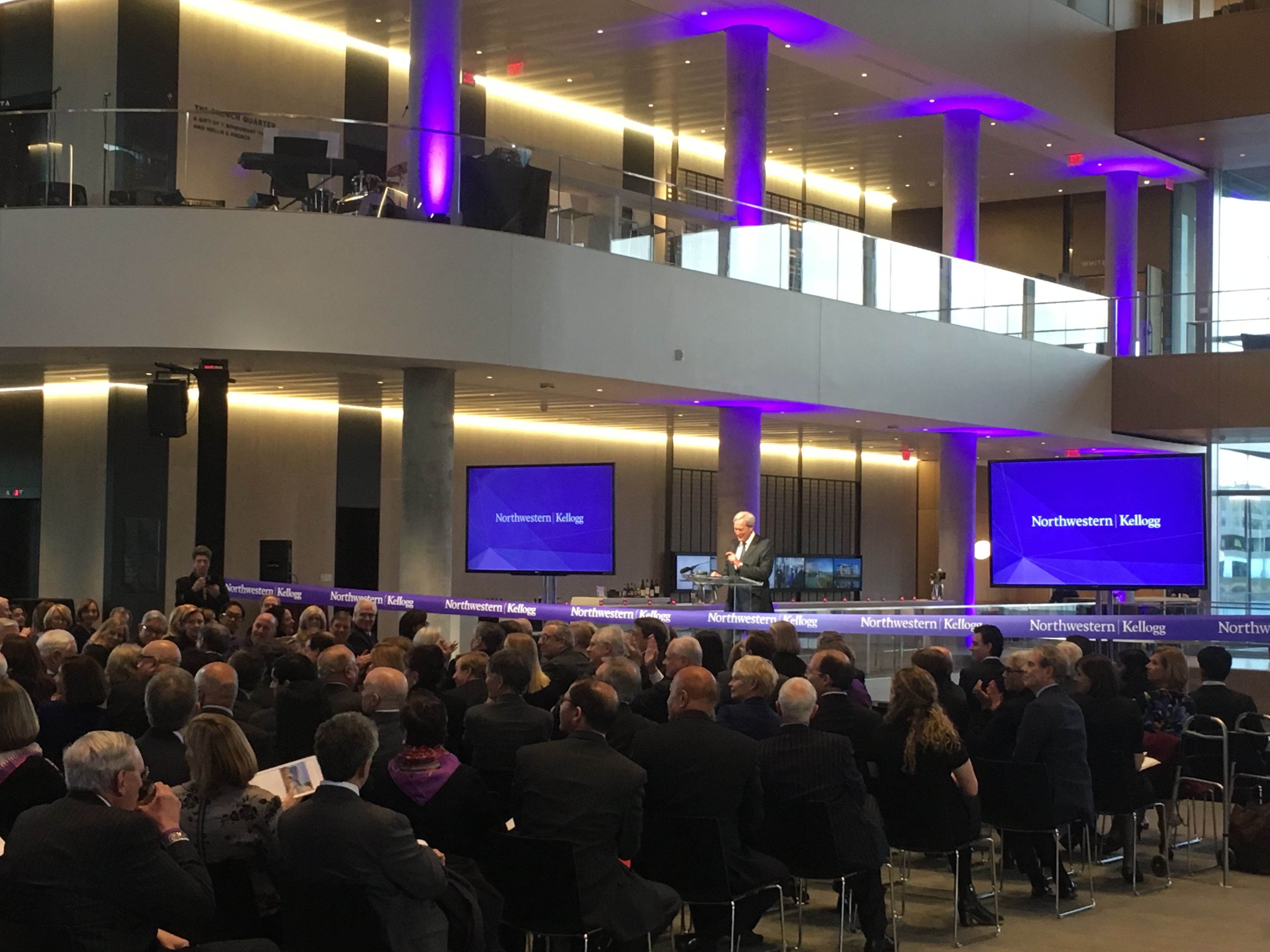 On March 28, the Kellogg School of Management cut the ribbon on the new Kellogg Global Hub building at Northwestern University, and the TC Furlong Live Event Group was there to provide full production support, including audio, video and lighting. The newest addition to Northwestern's campus, the Global Hub was designed by Toronto-based KPMB Architects and is six levels of classrooms, offices and communal creative space.
"When the university approached us, we knew the purpose the event was to show off the space," says Chris Wintz, who was the Project Manager for the event. "We had to design our production to complement the architecture." That meant designing an audio, video, and lighting solution that was not only sufficient for the space, but also the smallest visual footprint possible.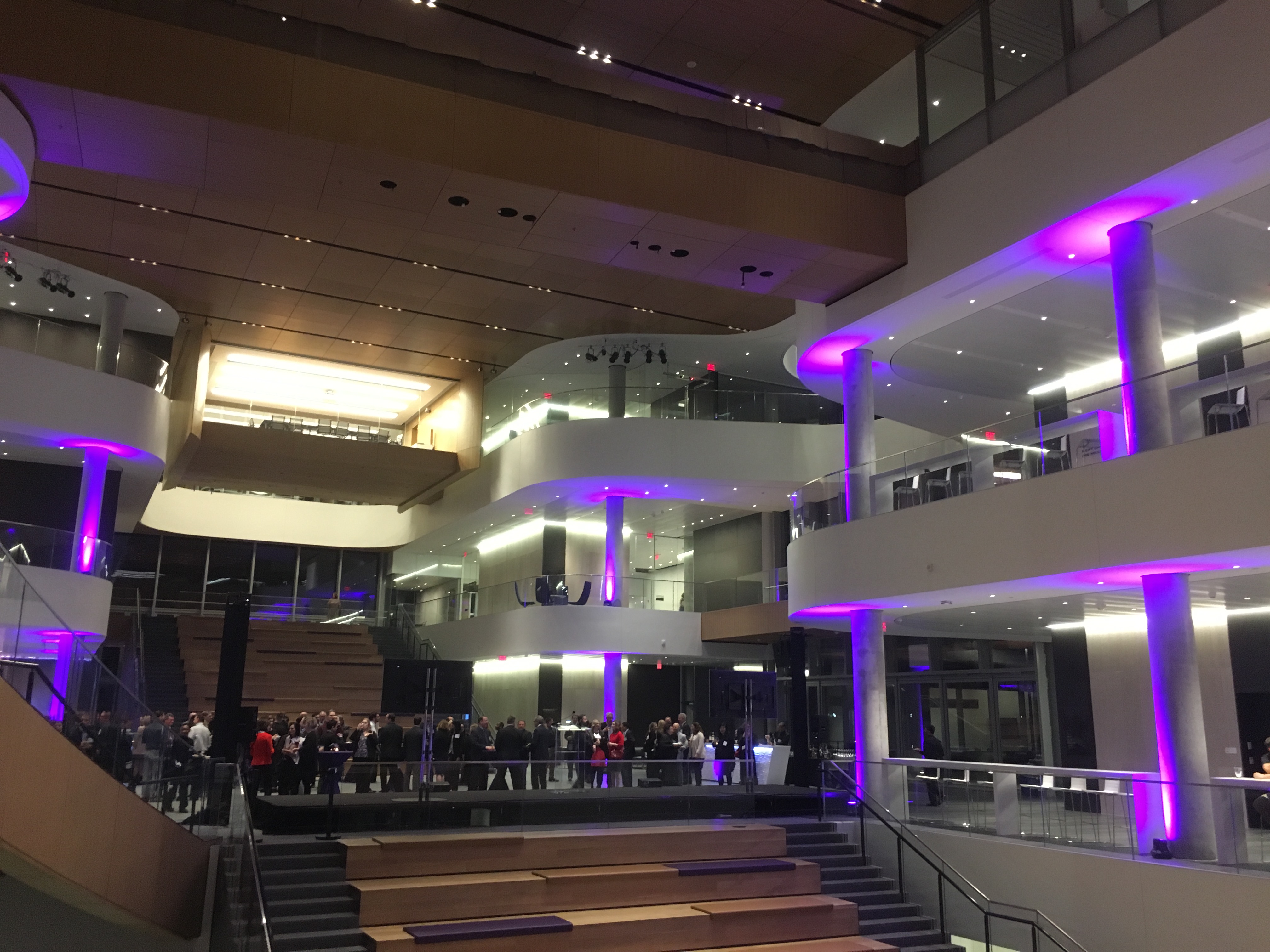 Planning for the event began well before the construction had been completed, so initial production meetings were based only on architectural drawings. The ceremony was set to take place in the center of "Collaboration Plaza," a beautiful and cavernous space at the center of the Global Hub.
The audio system was designed around Meyer UPA, UPJ and UPM speakers to ensure high intelligibility. A cantilevered yoke design at the top of box truss put the speakers in the correct position while maximizing sightlines to the stage and building. The system was processed and mixed on a Yamaha CL1 with a Rupert Neve 5045 and Shure ULX-D and UHF-R wireless systems.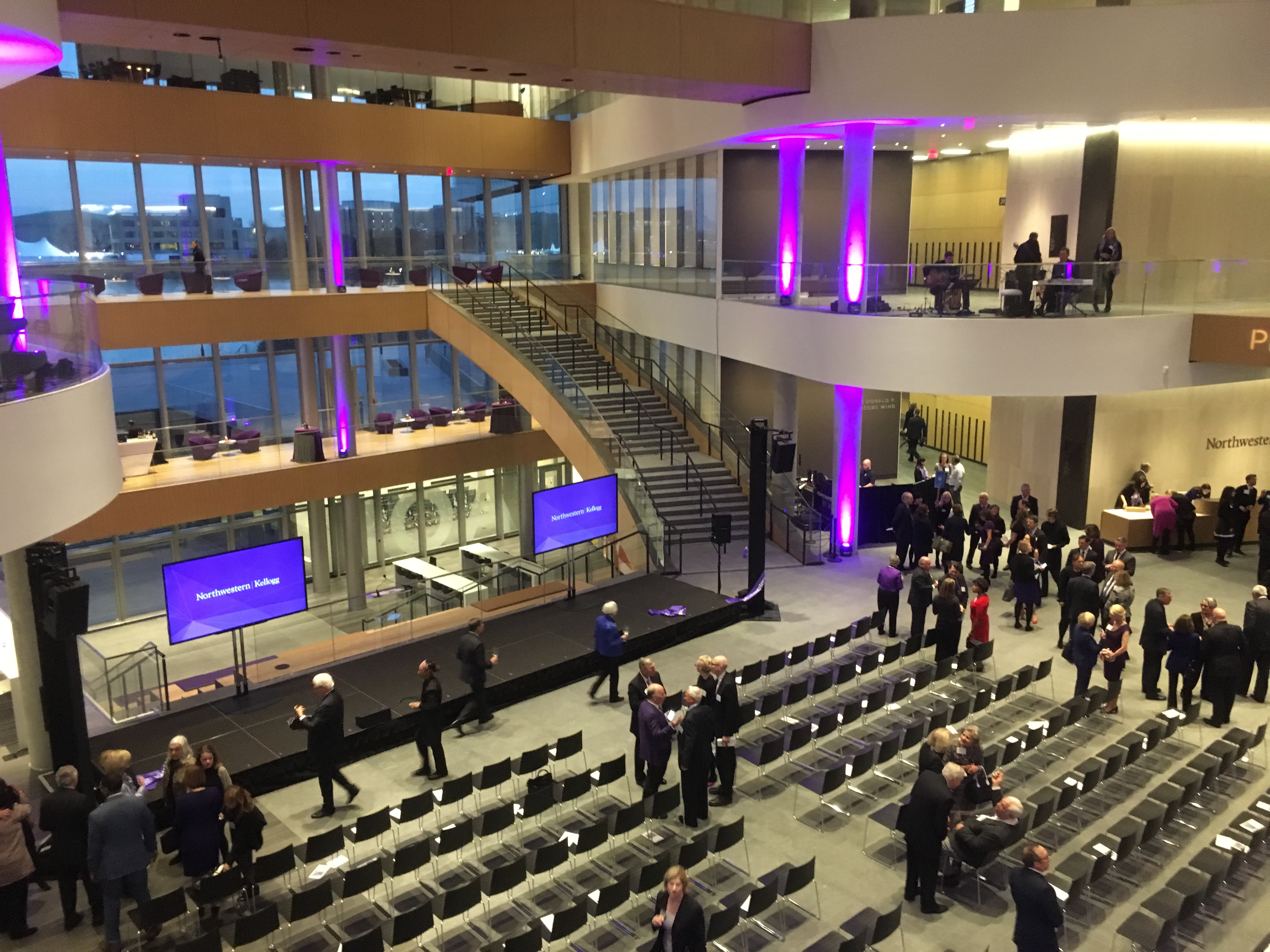 Small bands that were located on the balconies of different floors were sub-mixed with Allen & Heath Qu series consoles and sent to be mixed into the main PA with a wireless point-to-point connection. On-stage, Countryman Isomax IV gooseneck microphones with UR3 plug-on transmitters complimented an acrylic lectern for the main presentation.
TC Furlong Inc. also provided and coordinated lighting and video support. Around the building, more than 70 wireless, battery-powered LED lights were used to highlight architectural features, and stage washes were hung on integrated ceiling lighting frames for the main presentation. A Barco PDS-902 digital switcher drove two 90" displays that were on-stage for videos and slides.
"It was excellent to have the opportunity to work with the Kellogg team as they enter a new era," says Chris Wintz. "We look forward to seeing all they have in store for their beautiful new space." The Kellogg Global Hub is now open for students and faculty to enjoy.
TC Furlong's Live Event Group provides complete event solutions for concerts, broadcast originations and special events. Contact Jeff with TC Furlong's Live Event group next time you have an important function that demands expert planning and flexible execution at 847.367.9588 or jc@tcfurlong.com.