by Brian Grahn, Sales/Marketing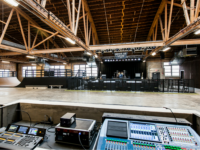 TC Furlong Inc. is excited to have designed and supplied the entire sound system for the new House of Vans Chicago. The re-purposed warehouse space serves both as a music venue and Chicago's only existing indoor skatepark, home to a custom-built course featuring re-imaginations of iconic skate spots and obstacles for all skill levels.
House of Vans Chicago officially opened its doors on February 3, 2017 with a two-day celebration of music, skating and art. The opening night featured live performances from Future Islands, Digable Planets, and Chicago-based breakout artist, Noname.
TC, in collaboration with House of Van's Chuck Radue and d&b audiotechnik design serivces, worked to develop the "little, light & loud" system. "They were able to design a system that was not only within my budget, but saved me so much in cable and rigging costs," says House of Vans Production Manager Chuck Radue. "The ability to cover a 900 capacity space using six cabinets is quite an achievement." Chuck and his team self-installed the system. TC oversaw the system commissioning and alignment prior to opening night along with Jake Kenneally.
At the heart of the system are two d&b V10P 3-way main speakers that feature two 10″ drivers, an 8″ MF driver and 1.4″ compression driver, while low frequency content is provided by four V-GSUB subwoofers. Each V-GSUB houses two elements, an 18″ driver in a bass-reflex design and a 12″ driver in a two chamber bandpass, that create a cardiod dispersion pattern.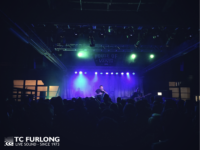 photo by Jake Kenneally
A delay system to service the VIP bar is made up of two d&b E8 cabinets with two E12x subwoofers, while two d&b E6 speakers supply coverage for the skate bowl. Stage monitoring is provided by six d&b MAX2 wedges along with a B6 subwoofer for drum fill. A complement of d&b D80 and D20 amplifiers provide power for the systems.
TC Furlong Inc. also provided the nuts and bolts of the system. On-stage an analog split supplies inputs to Allen & Heath AR2412 and AR84 stage boxes which feeds an Allen & Heath GLD-80 for monitor mixing. Front of house is mixed on a Midas Pro2 digital console that provides up to 64 input channels and 27 mix buses at 96kHz. I/O comes via digital snake from a Midas DL251 stage box with 48 channels and 16 returns.
"I am an old school Midas guy," says Chuck, "I think they make the best sounding pre's in the business. We multi-track all of our shows, so with the combination of the Midas preamps and the 96k sampling rate made the recordings come out fantastic.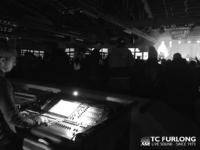 photo by Jake Kenneally
TC Furlong Inc. provided a mix and match of the usual suspects to make up the microphone selection. Microphones from Shure's SM and Beta series are paired along with products from Sennheiser, AKG and Radial. K&M and Atlas stands keep everything in the right place, while Whirlwind cabling makes sure the signal path is clean and consistent. A custom Whirlwind Power Link rack provides electrical distribution. Whirlwind PL1 stringers distribute necessary power around the stage via Neutrik Powercon connections.
"TC Furlong as a person and as a company has been nothing but supportive, professional, and knowledgeable," says Chuck in regards to the experience. "Add in the fact that the pricing is the best I have found in the country and you have a customer for life."
We are happy to have worked with Chuck, Vans, and d&b on such a fun project, and to have played our part in delivering the soundtrack for many skaters in the Chicago area.
House of Vans Chicago is now open. For more information, including a calendar of events, visit their website.
For more information about the products in this article or anything from our list of over 100 professional audio manufacturers, contact our Sales Team at 847.367.9588 or sales@tcfurlong.com.