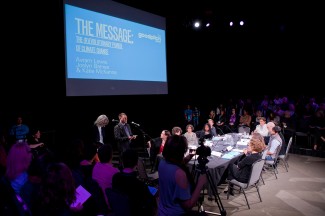 On October 22, 2013, an amazing convergence of talent, technical prowess, vision, and goodwill took place at GoodPitch Chicago 2013.
Seven independent filmmaker teams pitched their socially-important films to a highly-energized audience.  The pitch table offered each team of film makers comments, connections, and, in many cases, funding to allow completion and distribution of these compelling documentary films.
TC Furlong Inc. was honored to participate as a sponsor and the audio systems designer and provider for the event.
Design Solutions for a Challenging Room
Designer and Project Manager, TC Furlong, knew the challenge of providing highly intelligible audio for 300+ invited NGO's, philanthropists, foundations, and government officials.
The event was held in the Yates Gallery at the Chicago Cultural Center.
The acoustics of this highly-reverberant glass and stone space were greatly improved by constructing a room-within-a-room.
Fellow sponsor, Michael Reed (of Reed Rigging), supplied the truss and towers to create a 50' X 70' box that acted as a 28' tall support for 250' of heavy velour drape, multiple lighting pods, and eight loudspeaker locations.  Two independent Meyer Sound loudspeaker systems were deployed to handle the film's soundtracks in one system and twenty live microphones in the other.
Mixing engineer, Scott Helmke, reports, "While it was a challenge to mix the large number of panel microphones, having Meyer loudspeakers in a solid system design made for a great result."
Lasting Impact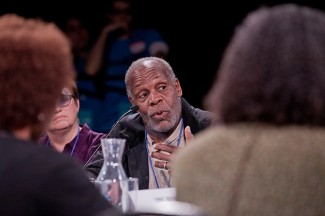 The films, chosen from over 400 entries to be pitched to potential supporters, included subject matter dealing with homeless youth braving Chicago's harsh winters, former prostitutes helping sex workers leave the violent life of human trafficking, global climate change, and a host of important issues facing us all.
By the end of a full day of pitches, everyone in the room had embraced these important film projects and a tremendous amount of support was pledged.
Because high-quality audio connected everyone in the room, the world got one step closer to being a better place.
That's what TC Furlong Inc. calls, "a good day at work."