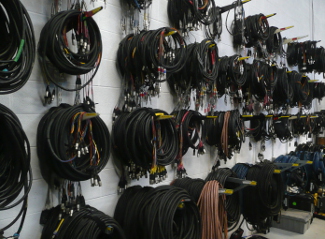 Earlier this week, one of our Nashville-based production company clients was loading into McCormick place, and realized their warehouse didn't send the trunk of multi-cables needed to get their rig up and running.
Faced with an impatient crew of stagehands and an impossibly tight schedule, the Project Manager reached out to the TC Furlong EAR (Emergency Audio Response) Team.
25 minutes after the initial call, we had designed, prepped, and loaded over 1000′ of snakes, drive snakes, and sub-snakes onto our truck and got it on the road to the McCormick Place marshaling yard.
Thanks to a quick turnaround from rental inquiry to delivery, the client's load-in proceeded as scheduled.
We hope you never have a show related emergency, but if you do, know that the EAR Team at TC Furlong will do everything it can to solve your problem no matter when or where it may be.
If you have a Show Related Emergency call us any time.  If it is after our normal office hours, please call our 24 hour paging service at 800-676-4292.  This number is also available on our after-hours phone message, is printed on the bottom of every rental contact, and can be found by clicking the 24/7 SUPPORT link at the top of any webpage.