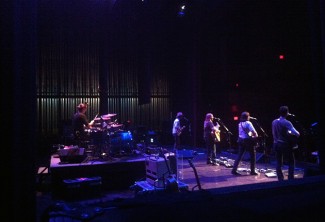 When the folk rock duo, Indigo Girls, performed in Skokie recently, TC Furlong got the call for a sound system at 1 pm—for a 4 pm sound check.
Just 3 hours, to design, pull, load, deliver, load-in, set-up, and test a full main PA that included ground-stacked Meyer MICA, 600-HP subs, and Galileo  loudspeaker management, plus power and signal distro.
"We've gotten pretty good at last minute.  Not that we hope for a show emergency, but there's a certain rush we all get when the order comes down: big Meyer rig for a national act.  Oh, and it needs to be designed, prepped, and packed on the truck in 45 minutes," said Project Manager, Chris Wintz.
TC Furlong's Emergency Audio Response Team (EAR Team) jumped into action and started prepping gear before there was even an agreement in place.
"We had all hands on deck to prep the show quickly and get the truck loaded and out the door.  The house crew was outstanding—we could not have hit the deadline without their efforts," said Operations Manager, Steve Whittenhall, who was also the System Technician on the show. "You just can't beat Meyer gear for plug and play and sounding incredible without any muss or fuss.  The band's engineer was thrilled with the gear, and, most importantly, that we could pull this off with just 3 hours notice."
We hope you never have an audio emergency, but if you do, know that TC Furlong is ready to support you 24/7/365 with the full resources of our company—individual items, full systems or technical support.  During business hours, call our office at 847-367-9588.  After hours, call our 24/7 emergency paging operator at 800-676-4292.