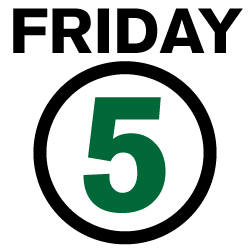 Each Friday we share five interesting links we've come across throughout the week.
Most will be related to the audio industry, but we'll also throw in some random topics as well.
Here's this week's Friday Five:
Video: Meyer Sound Constellation Acoustic System Explained
Constellation is the answer for multipurpose venues that wish to provide the ideal acoustics for each type of events it hosts.
In this video, John Pellowe, Meyer Sound Constellation project director, explains how Constellation's versatility, ease of use, and sonic capabilities make it a superior solution to bring the audience and musicians together in a flexible performance environment unattainable with traditional methods.
Constellation has been installed in close to 50 world-class venues around the world, including Zellerbach Hall at UC Berkeley, Logomo Hall in Finland, and a variety of houses of worship, high school auditoriums, research facilities, theatrical spectacles, and more.
[Click for the original post…]
Phase Alignment Between Subwoofers & Mid-High Cabinets
FFT based field measurement systems have made it possible for us to do phase alignment at fixed installations as well as at live events, where every venue demands a different approach.
This is particularly important these days, since mid-high boxes are often flown and subwoofers remain on the ground, meaning that phase differences at the listener location can be very significant.
Given the interest in the subject, and the remarkable improvement it can bring to a system, it seems like a good idea to write an article that describes the measurement process step by step. Before doing that, however, let's go over the concept of phase.  [Click to read more…]
Avid Debuts VenuePack 4
Avid has announced VenuePack 4, a new suite of 30 plug-ins and utilities from Avid and third-party partners such as Flux::, Focusrite, JoeMeek, Line 6, and others. It will come bundled with all Venue digital console systems.
VenuePack 4 plug-ins run natively on all Venue systems—no external plug-in runner or separate laptop required—and can be controlled right from the console surface.  [Click to read more…]
Upgrading Your Church's Audio System: Five Tips from a Church Tech
Josh Isenhart is a freelance audio engineer and consultant for church technical ministries.  Having sat through many a budget discussion, we knew he'd have some sound opinions about building a solid system to share with our readers.  This is what he had to say.  [Click to read more…]
Shure Microphones Endure Venezuela's Tropical Terrain In Support Of Research Project
When Dr. Karl Berg became part of the world's most extensive parrot research project as a doctorate student at Cornell University, he faced the challenge of recording 1,000 hours of the bird's communication at a wild parrot research center in Venezuela.
In a climate that averages a stifling 95 degrees with 99 percent humidity, Berg's focus was to discover important interactions and behavioral traits among parrots in their normal habitats.
To properly analyze communication habits, he needed to obtain digital recordings from inside the parrots' nests. Berg turned to Shure SM57 and SM11 microphones.  [Click to read more…]
~
Looking for links like this throughout the week?  Follow TC Furlong on Twitter.