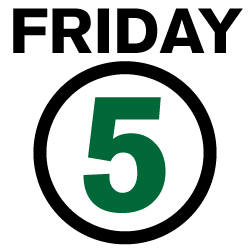 Each Friday (starting today) we like to share five interesting links we've come across throughout the week.
Most will be related to the audio industry, but we'll also throw in some random topics as well.
Here's this week's Friday Five:
Meyer Sound Libra and Constellation "Tune the Buzz" at Berkeley's New Comal Restaurant
Comal, a new restaurant located in Berkeley's lively downtown Arts District, is the first establishment of its kind to create an optimized aural environment using the new Libra acoustic image system and complementary Constellation active acoustic system from Meyer Sound.
This unprecedented ability to dynamically control the sonic ambiance of the space has garnered the attention of publications like San Francisco Chronicle and Fast Company.
With a touch on an iPad screen, Comal's management can maintain the desired level of energized "buzz" throughout the space while still allowing intimate conversations, all regardless of occupancy levels.  [Click to read more….]
Danley Sound Labs Introduces J4 "Supertweeter" Jericho Horn Loudspeaker
Danley Sound Labs has expanded the Jericho Horn Series with the introduction of the J4, a "supertweeter" that incorporates 64 one-inch compression drivers combining into a single point-source design.
The J4 extends the upper three to four octaves that can be consumed by atmospheric conditions to improve the presence and impact at great distances.  [Click to read more…]
Soundcraft Announces Vi Series Console Control on Soundcraft ViSi Remote iPad App
Soundcraft has updated the Soundcraft ViSi Remote iPad app to allow control of the Vi Series of consoles in addition to the Si Compact range released last month. The new version of the app is available free of charge on the iTunes store.
ViSi Remote enables a single iPad to control multiple consoles from the Soundcraft Vi Series or Si Compact range on a single wireless network.  [Click to read more…]
What You Need to Know About Signal-to-Noise Ratio
Shure's Director of Applications Engineering, Michael Pettersen, explains how the RF environment affects wireless microphone transmission.
Why might a Shure wireless mic system work properly over a distance of 400 feet in the Utah desert, while the same exact Shure wireless system will work properly for only 50 feet in New York City?  [Click to read more…]
Waves Audio Joins The AVnu Alliance
Waves Audio has announced that it has become a new member of the AVnu Alliance, the industry forum dedicated to the advancement and certification of Audio/Video Bridging (AVB) devices.
As part of this relationship, Waves will be a presence at AVnu events and will encourage industry adoption of AVnu standards campaigns.
By associating with AVnu, Waves is joining such leaders as Avid, Cisco, Dolby, Gibson, GM, Harman, Intel, Meyer Sound, Sennheiser, Texas Instruments, Yamaha and many more.  [Click to read more…]
~
Don't miss the next Friday Five!  Sign up for updates below!