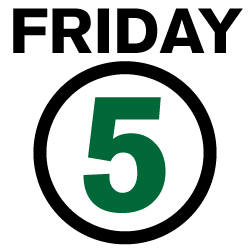 Each Friday we share five interesting links we've come across throughout the week.
Most will be related to the audio industry, but we'll also throw in some random topics as well.
Here's this week's Friday Five:
Optimizing the Low End: Run & Gun Subwoofer Arraying Techniques
Problems in this area are so prevalent that many of us take them for granted or assume there is no room for improvement. In fact, most of the time there is a better solution.
Further, that method is usually free and can be accommodated by most system layouts.  [Click to read more…]
David Stagl: Mixing for Church & Broadcast
As Audio Director at Atlanta's North Point Community Church, David Stagl is an expert at meeting the exceptional challenges posed by the fast-paced field of sound for worship. In this exclusive interview, David sheds light on the unique needs of live mixing for the religious sector, from sound reinforcement and recording to real-time online streaming and broadcast.  [Click to read more…]
Getting Grounded: Power Distribution for Sound Reinforcement Systems
For those who haven't studied electronics, it may come as a shock (pun intended) that all sound equipment runs on DC power.
But wait a minute, you say – I plug my gear into AC power sources!
Inside every imaginable piece of audio gear is an AC-to-DC convertor known as the power supply.
If the various semi-conductors (transistors, op-amps, DSP chips, FPGA chips, etc.) were to be supplied with 50 or 60 Hz AC power, the modulation effect would make them unusable for audio applications. Hmmm. (Or is that "Hummm"?)
So why do we use AC if we ultimately require DC to run our equipment?  [Click to read more…]
Avid On-Demand Webinars: Power Mixing with ProTools|HDX
Pro Tools|HD Accel systems have been trusted fixtures in music studios and post facilities around the world, enabling pros to create the best sounding mixes for many years. But with the new-generation Pro Tools|HDX and Pro Tools|HD Native systems, you gain more power and better sound quality than ever before.  [Click to read more…]
The Mixdown Landscape
When it comes to recorded music, the mixdown is the crucial step where the individual recorded tracks of each instrument or vocal are combined to make the finished master.
Much of what we do when we're tracking a song is designed to give us as much flexibility and control as possible in the mix down stage, for example:
We close-mic instruments and isolate them from one another to minimize their interaction with each other.
We record our vocals separately so that only the voice (and nothing else) is recorded.
The end result is more control during mixdown, but all of that freedom can be overwhelming.  [Click to read more…]
~
Don't miss the next Friday Five!  Sign up for updates below.