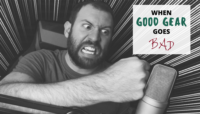 Photo credit: LordMinion777 via Youtube
Does this sound familiar?
"It was a good piece of gear and it came from a nice home."
"It was working fine yesterday and then… betrayal."
"I loved that gear like it was my own."
We've all been there with good gear that succumbed to the influences of abuse, entropy, old age and neglect. What are you going to do about it– Fix it or forget it?
TC Furlong offers a range of support –including Repair services, Warranty Support Advantage and Emergency Audio Support –to help "repair" your relationship with your gear.
Repair Services: our repair technician Scott Helmke is an excellent bench tech who has the specialty tools and experience to diagnose and repair most sound reinforcement equipment. Most work is done in our shop, but we do a limited amount of field work as well. Our focus is on gear that we've sold and there are items we don't work on (speaker re-coning, power amplifiers, musical instruments). Contact Scott at repairs@tcfurlong.com to start a conversation about labor rates, capabilities and turn-around time.
Warranty Support Advantage: our warranty support service offers end-to-end peace of mind on every purchase. If any new item you buy from us fails during the manufacturer's warranty period, we will provide a no-charge loaner while we assist you in dealing with the manufacturer. After the manufacturer's warranty expires, we provide a 50% discount on a rental while we assist you with the repair, for as long as you own the gear. For more information about our Warranty Support Advantage contact sales@tcfurlong.com or go to www.tcfurlong.com/warrantysupport/
Emergency Audio Support: our Emergency Audio Response Team is available 24×7 for show-related emergencies. Leave a message with our 24×7 answering service (800-866-3875) and we'll get back to you quickly – usually within 5 minutes. We'll do everything we can to get your show back on track, whether it's helping troubleshoot over the phone, or dispatching replacement gear. For more information: www.tcfurlong.com/support/
When your gear goes bad, let TC Furlong help get things back on track with repair services, warranty support or emergency support.