From March 1, 2013-April 30, 2013, Sennheiser is offering end-users rebates on several of its popular wireless microphone systems, as well as its ew300IEMG3 wireless in-ear monitor system.
XS and ew100G3LE wireless – $25 rebate
ew100G3 wireless – $50 rebate (excludes ew100ENGG3)
ew300G3 and ew100ENGG3 – $75 rebate
ew500G3 wireless – $100 rebate
Click here to download the Sennheiser Rebate Form
XS Wireless Microphones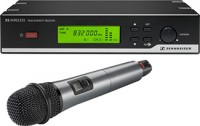 Rugged, reliable, and easy to use, XS wireless microphone systems from Sennheiser deliver the renowned Sennheiser sound to small venues, conference rooms, or houses of worship.
Each true-diversity XS system operates on 960 tunable UHF frequencies across a 24MHz bandwidth.
XS receivers are made of solid-construction metal, and the transmitters operate for up to 10 hours on (2) AA batteries.
Evolution G3 Wireless Microphones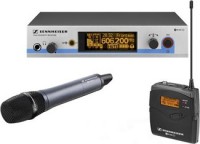 Improved over the popular Evolution G2 series of wireless, the third generation of Evolution wireless offers a wide variety of sets and accessories for rock-solid wireless audio transmission.  From a single microphone set to a fully integrated multi-channel solution, the Evolution G3 holds up to even the toughest live tours.
The intuitive menu navigation, new graphic display, and wireless transmitter sync makes system setup and operation simpler than ever.
Evolution transmitters and true-diversity receivers are all metal, and operate on 1680 tunable UHF frequencies across a 42MHz bandwidth.  Each system operates for up to 8 hours on (2) AA batteries.
Evolution ew300IEMG3 Wireless In-Ear Monitors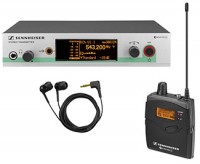 The professional ew300IEMG3 system provides everything you need for high-quality wireless monitoring, bringing all the features of the evolution G3 microphone systems to a wireless in-ear monitor.
The all-metal, adaptive-diversity bodypack receiver uses the headphone cable as a secondary antenna for improved reception, along with control of the hi-boost, limiter, stereo-focus mode, and balance.
The system operates on 1680 tunable UHF frequencies across a 42 MHz bandwidth.  The receiver operates for up to 6 hours on (2) AA batteries.
If you have any questions about these wireless systems or would like a quote, please contact our Sales Team at 847.367.9588 or sales@tcfurlong.com.
We also have Evolution G3 wireless microphones and in-ear monitors in our rental inventory.  For a rental quote, please contact our Rental Team at 847.367.9588 or rentals@tcfurlong.com.