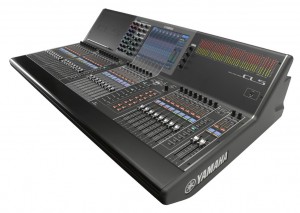 The Yamaha CL-Series is a Dante network–based family of consoles featuring remote I/O and new features for a faster, more responsive Yamaha system solution.
The CL-Series features an improved Centralogic interface, ensuring engineers familiar with Yamaha's current console lineup will feel right at home on the new surfaces.
That's where the similarities end, as the preamps and delays on inputs and outputs have been designed from scratch, with audio quality being of paramount importance.
The CL Series EQ and effects have been vastly expanded. The Effect Rack now includes VCM analog circuitry modeling technology, as well as a Premium Rack developed in partnership with Rupert Neve – including his renowned Portico 5033 EQ and Portico 5043 compressor.
The line-up comprises three consoles, the CL1, CL3 and CL5, ranging in scale from 48 to 72 mono plus 8 stereo inputs. All feature 16 DCAs and 24 mix/8 matrix output buses, new self–lit key tops, channel name and color bar visible in sunlight, new fader caps and a smoother drive circuit.
With two rack-mountable I/O units, Rio3224-D and Rio1608-D, the CL series consoles can be used in a variety of combinations and configurations, communicating via a scalable Audinate Dante digital audio network.
Multi–track recording and playback with "virtual soundcheck" capability is now available via included Dante Virtual Soundcard software and new recording software from Steinberg dubbed "Nuendo Live," which is optimized for live recording and playback transport.
The CL5 and Rio3224-D are scheduled to be released in the spring of 2012, with the CL1, CL3 and Rio1608-D available in the summer.
Be sure to sign up for our newsletter, as we'll be holding a hands-on event once the CL5 is released!
If you have any questions about the CL-Series, please contact our Sales Team at 847.367.9588 or sales@tcfurlong.com.