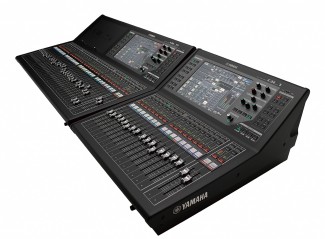 At the Prolight+Sound trade show, Yamaha released the all-in-one QL Series of digital consoles—the "little brother" to the CL Series.
The QL series inherits the performance and functionality of the CL Series, and is intended for small to medium scale live sound, corporate events, installations, and more.
QL consoles are available in two models: the QL5 (with 64 mono+8 stereo mix channels, 32 analog inputs, and 16 analog outputs); and the QL1 (with 32 mono+8 stereo mix channels, 16 analog inputs, and 8 analog outputs).
Both consoles feature:
A focus on high-quality sound reproduction that is faithful to the source
Rupert Neve Portico 5033/5043 Virtual Circuit Modeling (VCM) plugins
Built-in 16-channel Dan Dugan Automatic Mixer
"Touch-and-turn" knob for easy and efficient control of on-screen parameters
Comprehensive Fader Bank section, including 4 custom fader layers
300 scene memories
Ample EQ and dynamics processing
16 DCA groups
8 Mute groups
12 User Defined Keys
High visibility channel names and colors
Built-in Dante I/O (32×32 on the QL1, 64×64 on the QL5)
Gain compensation when sharing inputs with another controller
2-track recording to USB flash drives
Multitrack recording via Dante
iPad and computer integration
5-in/5-out GPI interface
We've already ordered one of each console for our rental stock, and will be holding QL Series launch events around the Chicagoland area.
To be notified when these events are announced, be sure to sign up for our email list in the box to the right.
For more information about the QL Series, or to get a quote, please contact our Sales Team at 847.367.9588 or sales@tcfurlong.com.