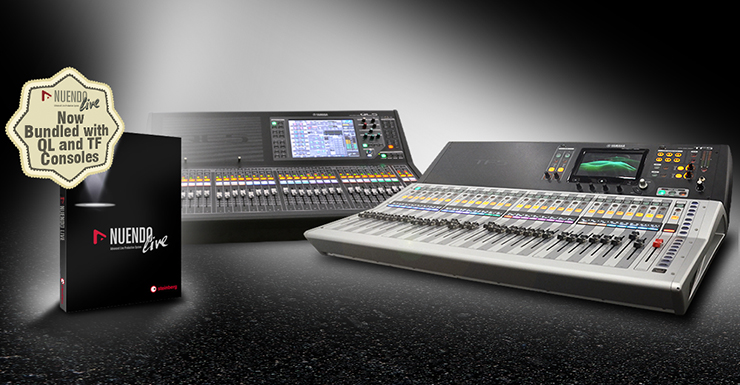 Earlier this year, Yamaha announced that all Yamaha QL-series and TF-series digital consoles would ship bundled with a copy of Steinberg's NuendoLive software.
Nuendo Live multi-track recording software is ideal for use in live sound applications – from club gigs, to hall concerts and festivals. It offers ease of operation in busy live sound situations, high reliability, and a comprehensive range of features that add up to professional performance and efficiency.
For a limited time, users who purchased a new QL or TF console as of January 1, 2016 are eligible to receive a "Not for Resale" copy of Nuendo Live at no charge. Read more about it and redeem your copy of NuendoLive here.
QL series digital mixing consoles are all-in-one models that feature high input and output capacity for a wide range of applications. Built-in Dante connectivity makes networking the QL consoles with CL series consoles and R series I/O racks easy, for outstanding system flexibility.
The compact TF series digital mixing consoles offer an extensive range of mixing features with a newly developed TouchFlow Operation™ user interface that is optimized for touch-panel operation. TouchFlow Operation gives all users, from novices to the most experienced engineer, an intuitive yet extraordinarily powerful operating environment.
If you have any questions about this promotion or about the QL-series or TF-series consoles, contact Oz in sales at 847-367-9588 or oz@tcfurlong.com