by Brian Grahn, Sales/Marketing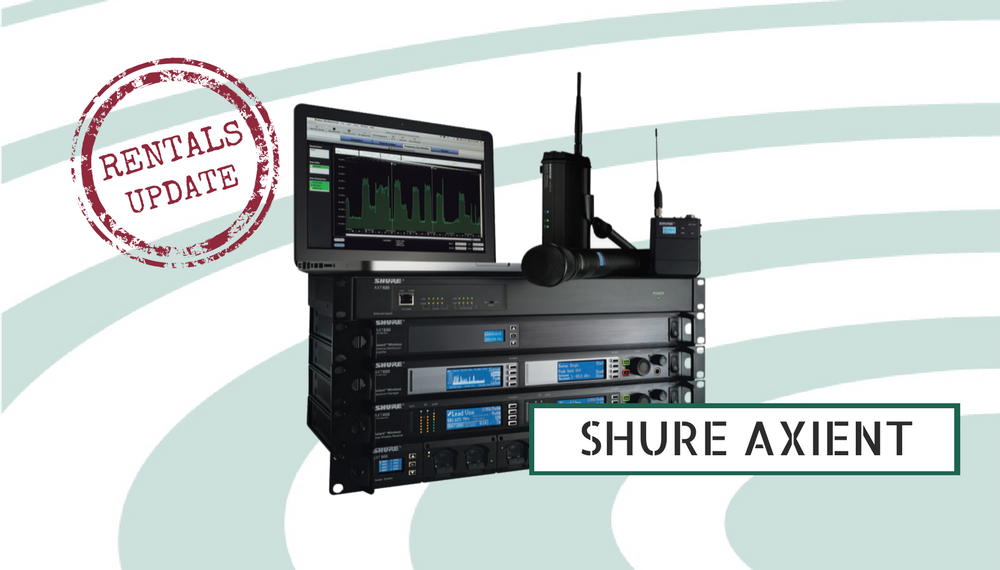 TC Furlong has recently added additional channels of Shure's Axient wireless microphone systems to our extensive rental inventory.
Shure's Axient Wireless Management Network offers an unparalleled level of control and reliability for mission-critical wireless audio applications and the system features fully-networkable control of RF transmission, reception and spectrum management.
Axient's main feature is an interference detection system that prompts receivers to move to a clear, compatible frequency in a fraction of a second when interference occurs. Another essential component of the Axient system is the Spectrum Manager, which is designed to continuously monitor, evaluate, prioritize, queue and assign compatible UHF frequencies. Axient's fully networkable controls are integrated into Shure's Wireless Workbench 6, which provide an enhanced graphic user interface to monitor and manage the system.
Axient transmitters feature true frequency diversity, enabling simultaneous transmission on two independent frequencies to ensure seamless, uninterrupted audio for mission-critical transmitters in extreme RF settings. Additionally, the Axient ShowLink Access Point facilitates comprehensive remote control of all transmitter parameters, a feature that has never been seen before in the world of wireless microphone systems.
Our Axient wireless package is the go-to, comprehensive solution for high-quality wireless microphone applications where failure is not an option. Visit our Axient Wireless Microphone Rental page for more information about package details.
In addition to having well-maintained RF systems at every level and price point, we stock a vast array of capsules, mic elements, specialty antennas, antenna distribution, RF filters, low-loss cable, RF spectrum analyzers, and other RF components. More important than our gear is our team's wealth of RF expertise and experience, and every wireless system rental comes with our Wireless Advantage.
For more information on adding an Axient wireless microphone system to your next rental, please contact our Rental Team at 847.367.9588 or rentals@tcfurlong.com.
TC Furlong also sells Shure Axient Systems. For questions about purchasing a Shure wireless systems, or anything from our list of over 100 professional audio manufacturers, contact our Sales Team at 847.367.9588 or sales@tcfurlong.com.