Clear-Com KB-111A Intercom Speaker Station Rentals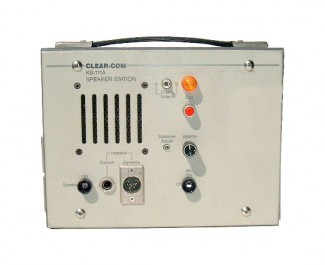 We offer Clear-Com KB-111A Intercom Speaker Station rentals in Chicago, the Chicago suburbs, and nationwide.
If you have any questions about a Clear-Com KB-111A Intercom Speaker Station rental in Chicago, suburban Chicago, or nationwide, or to reserve your rental, contact our Rental Team at 847.367.9588 or rentals@tcfurlong.com.
The Clear-Com KB-111A Intercom Speaker Station is one part of several intercom systems in our rental inventory.
The KB-111A is a high-quality remote speaker station that allows talking and/or listening on one of any two channels in a Clear-Com system (not both simultaneously).
Compatible with all Clear-Com intercoms, this station features excellent speech intelligibility in high- and low-noise environments. The wide frequency response speaker delivers crisp sound quality at levels high enough to be heard in the noisiest surroundings.
The KB-111A operates with a carbon headset, dynamic headset, or a telephone-style handset. It drives a standard Clear-Com headset to levels greater than 110 dB SPL. The station's speaker can be turned off when private conversation via the headset is desired; alternately, a mic on/off switch is provided to to let the station function as a "listen only" or "remote page" station.
The station contains a recessed sidetone control, which allows the operator to vary the level of his/her own voice as heard in the headset/speaker. Sidetone control also suppresses acoustic feedback when the mic and speaker at that station are on simultaneously.  The KB-111A features Visual Call Signaling; the Call button allows you to attract the attention of operators who have removed their headsets or turned off their speakers. The Call lamp illuminates when another operator presses the Call button.
The station is designed to be custom-mounted. It can be installed on a wall or console, or inside a standard 6″ x 8″ NEMA electrical box. Clear-Com provides optional portable boxes (see accessories).   Standard mic cable connects the KB-111A to the intercom system. The station provides a clearly labelled screw-terminal block for interconnection behind the front panel.  High-impedence current sourcing and low current drain allow as many as 20 KB-111A stations to be connected along one mile of wire with no significant loss of signal level or audio quality.   The circuit design virtually eliminates all hum and noise pick-up from SCR dimmer and AC power sources.
Allows selectable two-channel communications
Wide frequency response speaker with on/off switch
Intercom volume control
Operates with carbon or dynamic headsets
Mic on/off switch and adjustable sidetone
Visual Call Signaling
Portable or permanent installation
Solid 3/16″ machined aluminum front panel
TC Furlong offers Clear-Com KB-111A Intercom Speaker Station rentals alongside many other intercom systems and an extensive rental inventory of professional audio equipment.
Contact the TC Furlong Rental Team today to rent Clear-Com KB-111A Intercom Speaker Station in Chicago, Suburban Chicago, or nationwide, at 847.367.9588 or rentals@tcfurlong.com.
Clear-Com KB-111A Intercom Speaker Station Rental Documentation: