DPA 4080 Lavalier Microphone Rental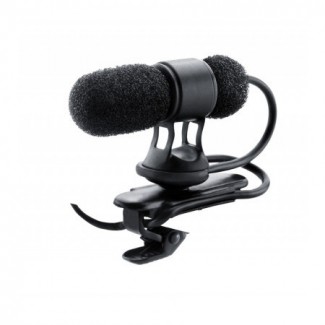 We offer DPA 4080 Lavalier rentals in Chicago, the Chicago suburbs, and nationwide.
If you have any questions about a DPA 4080 Lavalier rental in Chicago, suburban Chicago, or nationwide, or to reserve your rental, contact our Rental Team at 847.367.9588 or rentals@tcfurlong.com.
The DPA 4080 Lavalier is just one of hundreds of microphones in our rental inventory.  It is available in wireless and hard-wired formats.
All 4080 Lavalier rentals include mic clips and cables (if applicable).
Combining high audio quality and low visibility, the DPA 4080 is well suited for broadcast, conference, and other live performances in the studio or in the field.
It is acoustically pre-equalized, offering a 4 dB presence boost, which makes the voice more distinguishable and improves speech intelligibility. Professionals will appreciate the light weight and the excellent speech reproduction.
DPA 4080 is delivered with a pre-mounted black pop filter in a holder with an integrated shock mount, fixed on a clip. An additional white pop filter is enclosed. Because of the flexible and practical mounting solution, the microphone can easily be turned in all directions and fits both left and right buttoned shirts.
All parts of the microphone are manufactured in highly resistant materials and designed to perform under stress.
Directional characteristics: Cardioid
Principle of operation: Pressure gradient
Cartridge type: Pre-polarized condenser element with vertical diaphragm
Frequency range, ± 2 dB: 250 Hz – 17 kHz with typ. 4 dB soft boost at 4 – 6 kHz (-5 dB at 100 Hz)
Sensitivity, nominal, ±3 dB at 1 kHz: 20 mV/Pa; -34 dB re. 1 V/Pa
Equivalent noise level A-weighted: Typ. 23 dB(A) re. 20 µPa (max. 26 dB(A))
S/N ratio, re. 1 kHz at 1 Pa (94 dB SPL): Typ. 71 dB(A)
Total harmonic distortion (THD): < 1 % up to 123 dB SPL peak, < 1 % up to 120 dB SPL RMS sine
Dynamic range: Typ. 100 dB
Max. SPL, peak before clipping: 134 dB
Output impedance: 30 – 40 ohm
Power supply: For wireless systems:  Min. 5 V – max. 50 V through DPA adapter. With DAD6001-BC/DAD6024/DAD4099:  48 V phantom power ±4 V for full performance.
Connector: MicroDot
Color: Black
Microphone weight: 15 g (0.5 oz) incl. cable and MicroDot connector
Microphone diameter: 10 mm (0.4 in)
Capsule diameter: 5.4 mm (0.2 in)
Microphone length: 30 mm (1.2 in)
Cable length: 1.2 m (4 ft)
Cable color: Black
Cable diameter: 1.6 mm (0.06 in)
Cable drive capability: Up to 300 m (984 ft)
Polarity: Positively increasing sound pressure produces positive going voltage on MicroDot pin
TC Furlong offers DPA 4080 Lavalier rentals alongside hundreds of microphone rentals and an extensive rental inventory of professional audio equipment.
Contact the TC Furlong Rental Team today to rent the DPA 4080 Lavalier in Chicago, Suburban Chicago, or nationwide, at 847.367.9588 or rentals@tcfurlong.com.
DPA 4080 Lavalier Rental Documentation: