Sennheiser e935 Dynamic Microphone Rental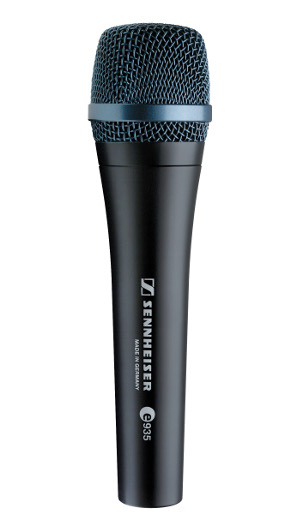 We offer Sennheiser e935 rentals in Chicago, the Chicago suburbs, and nationwide.
If you have any questions about a Sennheiser e935 rental in Chicago, suburban Chicago, or nationwide, or to reserve your rental, contact our Rental Team at 847.367.9588 or rentals@tcfurlong.com.
The Sennheiser e935 is just one of hundreds of wired microphones in our rental inventory.
All e935 rentals include stands, mic clips, and cables.
The Sennheiser e935 is a cardioid vocal stage microphone specially designed to perform under pressure while cutting through the mix with its high output. Made for the working musician. Excellent sound results guaranteed, day to day, 365 days a year. First choice for rental companies.
Metal construction: Rugged and reliable
Shock-mounted capsule: Low sensitivity to impact and handling noise
Cardioid pickup pattern: Insulation from other on-stage signals
Hum compensating coil: Reduces electrical interference
Neodymium ferrous magnet with boron: Keeps microphone stable regardless of climate
Falcon ring: Consistent sound over time
Made in Germany
TC Furlong offers Sennheiser e935 rentals alongside hundreds of wired microphone rentals and an extensive rental inventory of professional audio equipment.
Contact the TC Furlong Rental Team today to rent the Sennheiser e935 in Chicago, Suburban Chicago, or nationwide.
Sennheiser e935 Rental Documentation:
Sennheiser e935 Rental Manual (PDF)