Shure Wireless Microphone Rentals
We offer Shure wireless microphone rentals in Chicago, the Chicago suburbs, and nationwide.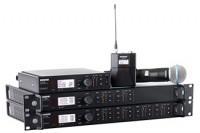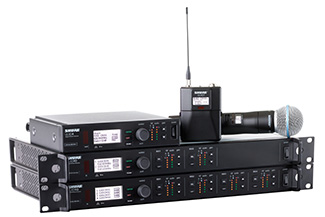 If you have any questions about a Shure wireless microphone rental in Chicago, suburban Chicago, or nationwide, or to reserve your rental, contact our Rental Team at 847.367.9588 or rentals@tcfurlong.com.
Shure wireless microphones is one of several brands of wireless microphone systems in our rental inventory.
Shure wireless microphone rentals are available as bodypack configurations, and come with the TC Furlong Wireless Advantage.
All Shure wireless rentals include transmitters, receivers, stands, mic clips, and cables.
Since 1925, musicians and music enthusiasts around the world have chosen Shure microphones with confidence in the unparalleled sound and performance of our products.
For forty years and counting, the Shure SM58 has been the most popular vocal microphone in the world, revered for its natural sound and famed durability. Our wireless microphones are synonymous with innovative technology and bulletproof reliability. And our award-winning earphones are redefining the audio experience for the most discerning listeners.
But Shure stands for more than quality products. We are passionate about enabling performances that engage, energize and inspire audiences — performances that help shape the course of history. Shure was there when Elvis stepped into Sun Studios and when JFK vowed to put a man on the moon. We've been on the world's biggest stages, from Live Earth to the Oval Office, ever since.
Shure is also passionate about getting it right. We work tirelessly to develop flawless products and support them with the best customer service in the industry. In fact, in everything we do, we are committed to delivering a great audio experience — because that's the true measure of legendary performance.
We offer the following Shure wireless microphone systems for rental:
Why rent Shure wireless microphone systems from TC Furlong Inc.?
The TC Furlong Wireless Advantage.
When renting a Shure wireless microphone system, we provide more than just transmitters and receivers. Each system is designed specifically for your rental, and benefits from our decades of expertise in wireless design and operation.
Frequency coordination for your performance location for all Shure wireless microphone rentals. We have the knowledge and specialized tools to accurately coordinate your wireless microphone rental with other wireless and avoid local broadcasters.
Custom configurations. Every Shure wireless rental we send out is designed specifically for that job. We don't pre-configure any wireless before we know exactly what you need.
Every Shure wireless microphone rental is loaded with fresh batteries, then tested as a system before it leaves our shop to guarantee performance at your show site.
The correct antenna for the job. We deploy a wide range of antennas for many different applications. From log-periodic and omni antennas to helically- and circularly-polarized antennas, we have the correct antenna for your job.
Extras including RF scanners, antenna distribution, high- and low-pass filters, and low-loss cable to help improve signal strength.
Auxiliary gear to interface our wireless with your system.
TC Furlong offers Shure wireless microphone rentals alongside many other wireless microphone rentals and an extensive rental inventory of professional audio equipment.
Contact the TC Furlong Rental Team today to rent Shure wireless microphones in Chicago, Suburban Chicago, or nationwide.
If you have any questions about a Shure microphone rental, contact our Rental Team at 847.367.9588 or rentals@tcfurlong.com.