Shure ULX-D Wireless Microphone Rentals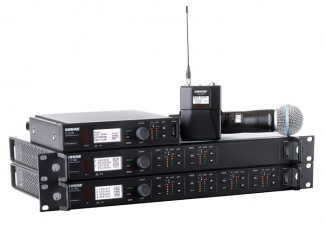 We offer Shure ULX-D rentals in Chicago, the Chicago suburbs, and nationwide.
If you have any questions about a Shure ULX-D rental in Chicago, suburban Chicago, or nationwide, or to reserve your rental, contact our Rental Team at 847.367.9588 or rentals@tcfurlong.com.
Shure ULX-D is one of several wireless microphone systems in our rental inventory.
Shure ULX-D rentals are available in handheld and bodypack configurations, and come with the TC Furlong Wireless Advantage.
All Shure ULX-D rentals include transmitters, receivers, stands, mic clips, and cables.
We offer Shure ULX-D rentals in most U.S. frequency blocks. Call us at 847-367-9588 to check availability.
Shure ULX-D Digital Wireless offers uncompromising 24-bit audio clarity and extremely efficient RF performance with single, dual, and quad channel receivers for any size professional sound reinforcement application.
Scalable, intelligent hardware delivers the best performing digital wireless available, with a wide selection of trusted Shure microphones to choose from. Unmatched spectrum efficiency enables a dramatic increase in the number of simultaneous active transmitters on one TV channel, with rock-solid signal over the entire range. Optional rechargeable accessories eliminate the need for disposable batteries while offering extended run time and metering accuracy in hours and minutes. For secure transmission, all ULX-D components include AES-256 encryption.
Generations ahead of any other available system in its class, ULX-D brings a new level of performance to professional sound reinforcement.
24-bit/48 KHz digital audio that exceeds all other systems in accurate reproduction of the source material
20 Hz – 20 KHz frequency range with flat response
Greater than 120 dB dynamic range for excellent signal-to-noise performance
Encryption-enabled for any application where secure transmission is needed
Wide selection of trusted Shure Microphones
Up to 64 MHz overall tuning range (region dependent)
Minimized intermodulation distortion results in significantly more channels on air, setting the bar for wireless performance in crowded RF environments
14 active transmitters in one 6 MHz TV channel
17 active transmitters in one 8 MHz TV channel
Over 60 compatible channels on one frequency band
Rock-solid signal stability with no audio artifacts extends over the entire 100 meter line-of-sight range using standard supplied dipole antennas
Optimized scanning automatically finds and deploys the cleanest frequencies available
Proprietary Shure Gain Ranging optimizes the system's dynamic range for any input source, eliminating the need for transmitter gain adjustments
Up to 60 dB of adjustable system gain is easily accessible from the receiver front panel
Networkable receiver simplifies setup across multiple channels
AMX/Crestron control-compatible
Rugged metal housing on both transmitters and receiver
Interference detection and alerts provide instant confirmation when interference is present
Upgraded LCD screens with adjustable contrast and brightness on both transmitters and receivers
Why rent Shure ULX-D wireless microphone systems from TC Furlong Inc.?
The TC Furlong Wireless Advantage.
When renting a Shure ULX-D wireless microphone system, we provide more than just transmitters and receivers.  Each system is designed specifically for your rental, and benefits from our decades of expertise in wireless design and operation.
Frequency coordination for your performance location for all Shure ULX-D rentals.  We have the knowledge and specialized tools to accurately coordinate your wireless microphone rental with other wireless and avoid local broadcasters.
Custom configurations.  Every Shure ULX-D rental we send out is designed specifically for that job.  We don't pre-configure any wireless before we know exactly what you need.
Every Shure ULX-D rental is loaded with fresh batteries, then tested as a system before it leaves our shop to guarantee performance at your show site.
The correct antenna for the job.  We deploy a wide range of antennas for many different applications.  From log-periodic and omni antennas to helically- and circularly-polarized antennas, we have the correct antenna for your job.
Extras including RF scanners, antenna distribution, high- and low-pass filters, and low-loss cable to help improve signal strength.
Auxiliary gear to interface our wireless with your system.
TC Furlong offers Shure ULX-D rentals alongside hundreds of other wireless microphone rentals and an extensive rental inventory of professional audio equipment.
Contact the TC Furlong Rental Team today to rent Shure ULX-D wireless microphones in Chicago, Suburban Chicago, or nationwide.
Shure ULX-D Rental Documentation:
Shure ULX-D Single Rental Manual (PDF)
Shure ULX-D Dual and Quad Rental Manual (PDF)