by Scott Helmke, TC Furlong Audio Engineer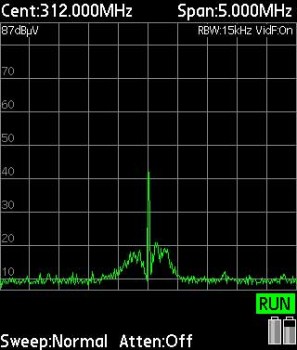 RF Scan of 312MHz transmission
We're a big wireless company.
We sell and rent a lot of wireless microphones, in-ear monitors, and intercoms.
Needless to say, we love it when customers want wireless; and we have a large variety of wireless transmitters and receivers, as well as tools and accessories to help design and deploy successful systems.
However, wireless is not always problem-free.
Having a wired alternative for a critical wireless link is always a good thing to have, just in case.
For example… we have a "buzz the door open" lock on the front door at our offices.
Since day one it's been a standard system using wireless key fobs with a digital security code—very tried and true hardware operating at a very standard 315MHz.  Your car wireless key fob and your garage door opener probably both run in that 312-318MHz range.
Recently this system stopped working.
Replacing the hardware did not help, and ultimately we discovered a new, nasty, and unknown big transmitter sitting on 312MHz.  Whatever it is, it covers at least several miles around our office.
The manufacturer of our door buzzer system agreed that it would cause interference, but that they don't have any alternatives in different frequency ranges.
We ultimately gave up and implemented a 100% wired system.
Those are sometimes the breaks when dealing with unlicensed gear operating in an "it generally works" space.  In case you hadn't guessed, wireless microphones have the same legal status and same risk of unavoidable interference.
Carrying a wired microphone and a hundred-foot mic cable might just save the show, and with it, your job.